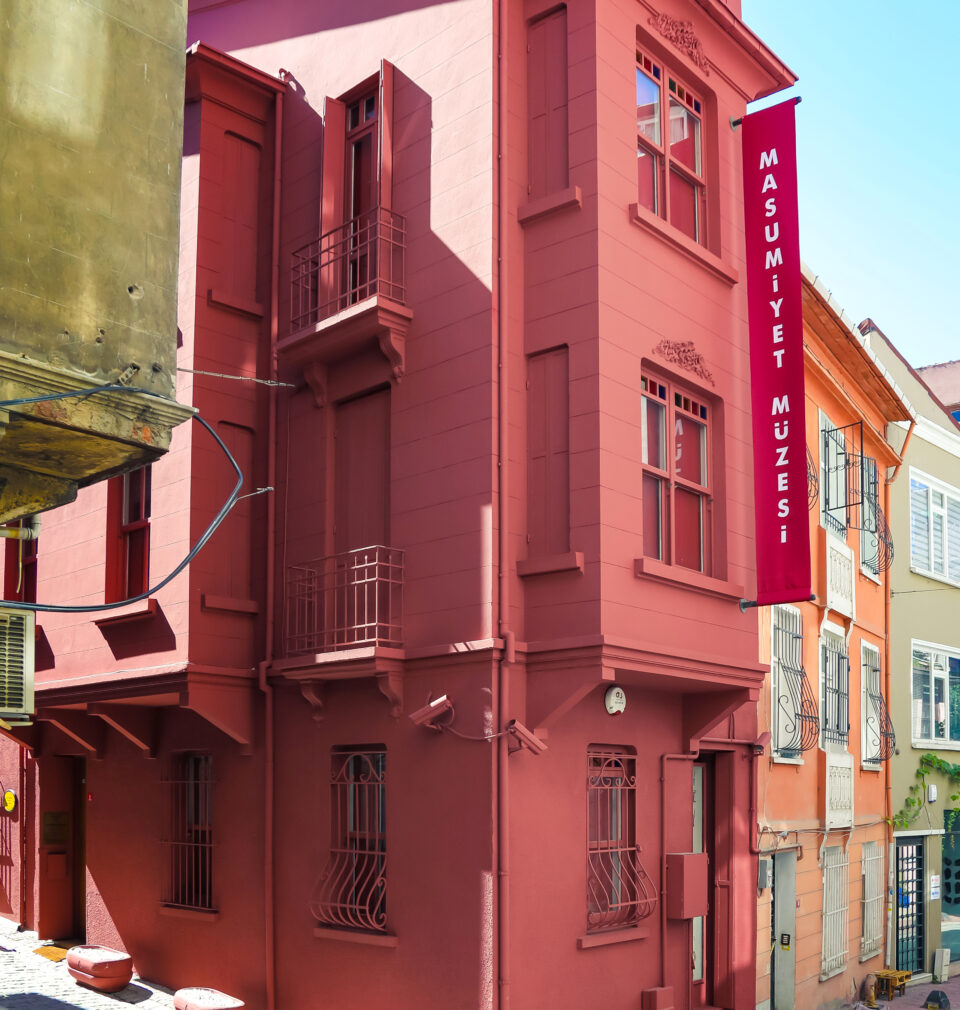 The objects in the Museum of Innocence are the objects of İstanbul that will represent the city's soul. The Museum of Innocence is, therefore, not just a novel or just a museum, but also a symbol of Pamuk's passion for İstanbul.
4,213 cigarette butts, 237 hair barrettes, 419 national lottery tickets and 1 quince grinder… will soon go on display in the Museum of Innocence which is finally opening in İstanbul. This three-storey museum in the Çukurcuma neighborhood of İstanbul takes its frame of reference from the Nobel laureate Turkish author Orhan Pamuk's most recent novel with the same name. The Museum of Innocence, published in Turkish in August 2008, has already been translated into Polish in 2010 with the title Muzeum Niewinności[1].
Like most of Pamuk's novels, The Museum of Innocence is set in his hometown of İstanbul. It is the story of an obsessive love which takes place between 1970s and 2000 in İstanbul. Although it features a large cast, The Museum of Innocence is essentially the story of Kemal Basmacı, a 30 years old businessman, who starts an affair with distant relative, Füsun Keskin, though he is engaged to Sibel. As a compensation for his failure to be with Füsun, in next eight long years, he invites himself for dinner to Keskin's household in Çukurcuma (some 1,593 times), and surreptitiously remove objects like salt shakers or porcelain figurines from the Keskins' house. He makes a collection of everything Füsun touches, from ashtrays to handkerchiefs, from bottle openers to buttons.
When Kemal decides to open a museum and prepare a museum-catalogue of the objects displayed in his museum, he asks his distant relative Orhan Pamuk, named like the novelist himself in real-life. Instead of classifying the objects in a typical museum catalogue, Kemal wants the writer Orhan to embed the objects into a novel. At the beginning of the novel, Orhan was a young novelist in the 1970s, as the author himself was a young novelist in the late 1970s. In fact, Orhan was also in the engagement ceremony of Kemal and Sibel in Hilton, and had the chance to dance with Füsun once.
Against the background of the bourgeois Istanbul, Pamuk describes many objects or belongings of Füsun – salt shakers, porcelain figurines, irregularly shaped door knobs, quince grinders, tricycles, sewing machines, clocks, soda-bottle tops, buttons, china dogs, birdcages, cigarette lighters. In the end, the novel turns into an exhaustive catalogue of Füsun's practical and non practical belongings. For the readers of the novel who might want to visit this museum, a black and white map has been printed at the last page of the novel. On page 574 of the book a ticket is printed which allows free access to the museum.
However, with the opening of a real museum in Çukurcuma, the line between fiction and reality seems to blur. It begs the question, what does Pamuk aim to achieve? What are Pamuk's collected objects for? To display a fictional, nonexistent love? This should be answered at least in relation to his previous works, especially his book on Istanbul: Memories a City, where İstanbul occupies a large section of the book[2]. Pamuk's objects are not bric-a-brac remnants of an obsessive, unrequited and non-existing love. Pamuk makes it clear by noting that "the enjoyment of the novel and the enjoyment of the would-be museum are two entirely different things… The museum is not an illustration of the novel and the novel is not an explanation of the museum."[3]
The objects in the Museum of Innocence are then the objects of İstanbul that will represent the city's soul. The Museum of Innocence is, therefore, not just a novel, or just a museum, but also a symbol of Pamuk's passion for İstanbul. He explains clearly in an interview, "I want my museum to be modestly filled with the ordinary things that make up the city, that make up any city. I want my museum to be a museum of the city, to include everything from street maps to locks to door handles to public telephones and the sound of foghorns."[4]
Pamuk's readers would know how deeply he is connected to İstanbul. In Istanbul: Memories a City, he explains how much he had learned strolling through the streets of İstanbul, which he describes as "an aging and impoverished city buried under the ashes of a ruined empire." Whenever he escaped from his grandmother's house and the boredom of architectural school he attended at that time, he would take melancholic strolls through the city. He writes, "I rarely returned to the real world empty-handed. I would bring home a serrated telephone token of a type no longer in circulation or some obscure object I'd jokingly tell my friends could be used either as a shoehorn or a bottle opener; I'd bring back a chip of a brick that had fallen off a thousand-year-old-wall; a wad of Imperial Russian banknotes, which all the city's junk dealers had in abundance at that time; I'd bring back the stamp from a company that had gone under thirty years earlier; weights from a street vendor's scale… The objects I brought back from my aimless walks, my attempts at getting lost – a few old books, a calling card, an old postcard, or a strange piece of information about the city – these things were indispensable proof that the walk I'd taken was real."[5]
Similarly, during the six year writing period for the Museum of Innocence, Pamuk collected many objects, which are similar to the ones he describes in the novel, from antique stores, flea markets, and collectors. Reality becomes fiction, and fiction becomes reality at the same time. In 1999 he even bought a dilapidated house, which is similar to Füsun's fictional house in Çukurcuma, and hired the architect İhsan Bilgin to convert it into a museum. Pamuk incorporates all these into his novel through the words of Kemal, his protagonist. Kemal lives on the top floor during the construction period. In those last pages of the novel, he explains in detail how this museum should be. He specifies that only 50 people at a time can visit the museum, and wants a gallery in the middle so that all displayed items can be seen at the same time, and a café where lovers can meet. He also mentions that chewing gum should be allowed in his museum.
In the last hundred pages of the novel, Kemal travels the world, visiting 1,743 museums in total as we learn from the novel. Not the Louvre or the Pompidou, not the crowded and ostentatious museums, instead he visits many empty ones that no one else ever visits, such as, the Musee Edith Piaf which is founded by an admirer, where one can see her hairbrushes, combs, teddy bears, by appointment. While wandering idly around museums, Kemal feels consolation, feels himself uplifted, and finds solace, and dreams of a museum where he could display his life through things Füsun had left behind.
Pamuk in an interview calls himself a "museum person" and it seems that there is a lot of Kemal in Pamuk when, toward the end of the book, he visits all these museums. Pamuk explains, "I share his [Kemal's] sentiments of going to small museums, where you can explore your passions, most preferably in a sleepy museum garden. The whole world and the present are left behind. We are in a different atmosphere, a different time; we are almost wrapped in a radically different aura of almost being outside of time… It's so crucial for the making of this book."[6]
While writing this novel Pamuk visits many museums, preferably small private collections. In the webpage, accompanying the novel, a collection of photographs of Pamuk visiting museums like the Willet Holthuysen Museum in Amsterdam, the Ava Gardner Museum in North Carolina, and the Balzac Museum in Paris is displayed[7]. Also, on the back cover Pamuk is seen in the Gustave Moreau Museum in Paris.
In Manzaradan Parçalar (literal English translation, Pieces from a View)[8] which was published a year after the Museum of Innocence, Pamuk includes an article that explains how he gets   and decides to represent Keskin's dining room in full-detail in full scale. On another occasion, after strolling around the Museum der Dinge in Berlin and looking at the collection of the products, which contain the words "gold" and "ideal," he comes up with the idea that he could present objects or products that include Füsun's name.
The Museum Berggruen in Berlin, for example, is one of the museums Pamuk takes inspiration from and writes on in his diary. Heinz Berggruen, a German-born Jewish art collector donated all his collection, which focused on Picasso and his era, to the state of Berlin. To house the collection, a large mansion near Charlottenburg Palace has been renovated and Mr. Berggruen started to live on the top floor of the newly renamed Berggruen Museum. He was frequently seen showing visitors around the paintings. Pamuk explains how he gets the idea of describing Kemal coming down from his attic room in his pajamas and wandering among the visitors from Mr. Berggruen.
The Frick Museum in New York is another preeminent small art museum within the formerly occupied residential mansion. We learn from Manzaradan Parçalar that Pamuk is impressed with the sign in the entrance of the museum saying "only 180 people at a time." So Pamuk, in Kemal's words, in an attempt to attack the Western blockbuster museums, says, "When the Sunday crowds pour through museums, the collected objects cry." Therefore, no more than 50 at a time are admitted to the Museum of Innocence!
In the Rockox House, Antwerp, Belgium, after visiting the silent, empty museum filled with oil paintings and chandeliers, Pamuk was interested in the 10 page brochure that describes the life of Nicolaas Rockox and took note in his diary that Kemal should prepare a similar brochure to be given to visitors.
Pamuk says in an interview, "I like small, neglected museums. I like their eclecticism, the idea that you produce something uncontrollable in them. The book honors museums that nobody goes to."[9] Therefore, The Museum of Innocence is a literary homage to small and neglected museums. The Museum of Innocence may be seen at first as a project that arises from Kemal's commitment to Füsun and his collection of objects, but it is made possible through Pamuk's commitment to his novel, to the art of writing and to İstanbul as well, a city that he is deeply infatuated with.
***
[1] Orhan Pamuk, Masumiyet Müzesi, İstanbul 2008.
[2] Orhan Pamuk, İstanbul: Hatıralar Ve Şehir [Istanbul: Memories and the City] (Istanbul: Yapı Kredi Kültür Sanat Yayıncılık, 2003).
[3] Orhan Pamuk, 'Winning the Nobel Prize Made Everything Political', Deutsche Welle Interview (7 September 2008). http://www.dw-world.de/dw/article/0,2144,3621369,00.html [Accessed 21 January 2009].
[4] Orhan Pamuk, "The Objects of the Exercise", New York Times, October 29, 2009. http://www.nytimes.com/2009/11/01/magazine/01Pamuk-t.html?_r=1 [Accessed 24 March 2011].
[5] Pamuk, İstanbul, p. 352-53-54.
[6] Orhan Pamuk, "I'm for Europe, Democracy and Freedom of Opinion", Der Spiegel Interview Online (16 October 2008) www.spiegel.de/international/europe/0,1518,584586,00.html (30 March 2011).
[7] The official site of The Museum of Innocence is located at www.masumiyetmuzesi.org (in Turkish).
[8] Orhan Pamuk, "From the Notes taken at the Museums I visited for the Museum of Innocence" Manzaradan Parçalar: Hayat, Sokaklar, Edebiyat (Pieces from the View: Life, Streets, Literature), Istanbul 2010, pp. 414-29.
[9] Gareth Harris, "The Museum That was Written down", The Art Newspaper, no. 216, September 2010. www.theartnewspaper.com/articles/The-museum-that-was-written-down/21427 (30 March 2011).