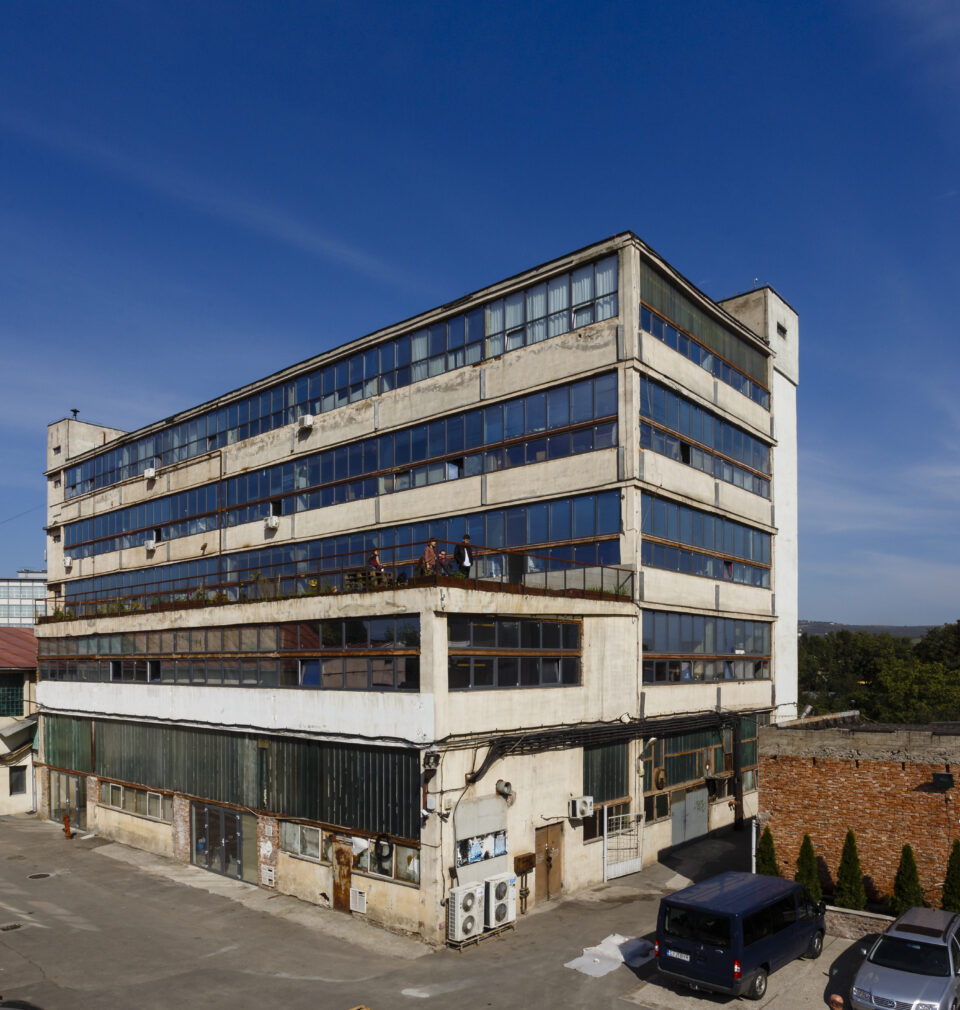 Don't tell me that you heard much about Cluj ten years ago, when the city was a mere spot on the map of a mysterious region, with heaps of history but not that much story around, or not a contemporary side to it. If you have heard of Cluj recently, it could be because an Erasmus student has spent some time here, seemingly too short in the end, or that on a quest of low-cost flights in Europe someone might have ended up on the chilled-out terraces of the small pedestrian areas and squares in the historical centre, or because in an exhibition at the San Francisco MOMA or in publications about Art Cities of the Future, Cluj is mentioned as a must-check-out hype in the arts.
However, the apparent bourgeois, easy living air that fills the streets of Cluj is a relatively recent side of reality. Until less than ten years ago, Cluj wasn't quite the place where hammocks would be hanging in the trees of the central park, critical masses gathering bikers of the city, or concerts happening in the public squares. Cluj had been, until 2004, a playground for nationalistic public discourse giving it a bitter fame, under the rule of its then-mayor, Gheorghe Funar, seen today as an icon for the bubble in which the city has been isolated. Denial of its diverse ethnic identity (alongside Romanians, the Hungarian, German or Jewish communities have had a fair share of the local history) and ignorance of anything that is foreign gave Cluj a dark aura. What we still keep today in the collective memory of the city looks more like an anecdote remembrance of how its public space used to be. Aggressively marked by the three colours of the Romanian flag, it used to remind its inhabitants about who has control over the present while glaringly ignoring the past, and a vision characterised by a retrograde understanding of urban and cultural life.
But today, Cluj is known to be a university city, one of diversity, of arts and contemporary culture, all set in a post-industrial, post-socialist context. However, listening to our local analysts, we remain unsure about the city's economical identity. While a quarter of its working population finds its place in the small manufacturing industries of Cluj, there seems to be a strong mobilisation of resources in the IT sector, while the service sector, although highly credited in the public discourse, rather offers business to business solutions. Norbert Petrovici, a sociologist, mentions the huge industrial platform of Cluj as the most relevant site for local production, benefiting from the inherited physical infrastructure of the socialist era and a mix of human resources coming from all levels of professionalisation. What makes the city powerful though, according to Petrovici, is a certain industrial diversity, relevant for the global market but functioning on economical logics independent from global fluctuations. Cluj seems to be a place where production functions on forms of local anarchies, where innovation as such finds its way in management systems, not just on a technological level.
If we take a look beyond the economy, innovation and independence from global shifts also find their relevance on a social and cultural level. Local forms of organisation and collective initiatives have proved to be a good mirroring of both what the local context naturally fabricates, as well as what can provoke an echo on an international scale. Fabrica de Pensule, an industrial building previously housing a paintbrush factory, now converted into a space for contemporary arts and culture, is a collective initiative of more than 50 artists, galleries, cultural organisations and independent producers, a space where social capital and organic forms of organisation have made things possible for what is now probably the most relevant collective art initiative in Romania.
The beginning of Fabrica de Pensule / The Paintbrush Factory (2009) is of course marked by an awareness of good practice examples from the West, where conversion of industrial buildings into spaces for art is a common place and a known model. At the same time, these examples are mere case studies and not too much direct inspiration for what has been built here on the community's needs and expertise. The initial engine of the project, stripped of any fake illusions and artificial master plans, was the concrete and unromantic need for space – both for work and production, as well as for bringing contemporary art and culture to the public. What started as a need – for artists and producers as well as for their audience – proved to be a good match with what the city was lacking, and the international scene as well – a forceful partner that brings together cohesion in cultural policies, valuable content and strong artistic programmes, while keeping its diversity of visions as an inner strength.
On the way, artists and producers have put their efforts in building the physical infrastructure (every member of the art space touched the broom and used their brushes to paint the walls when we started renovating the space), as well as the more immaterial infrastructure, mainly based on voluntary work and human investment, from curating to management. Romanticism loses any track when it comes to differences from what is known to work for similar creative factories in other countries – here, the building belongs to a private company (as most of the industrial spaces in Romania), which collects equal rent from members of Fabrica de Pensule for each piece of space they use, while the state and the city institutions needed quite some time to credit its impact and relevance. If in other cases, it is the state (in its many forms) that concurs directly to the development of such a place, here Fabrica de Pensule needs to constantly re-affirm its programme and strategy every year, in an unstable context of funding from institutions which year by year prove to be failing to support contemporary arts in a sustainable way. This year brings the case of the Administration for the National Cultural Fund as the most recent funding body to confirm the crisis which strikes contemporary art initiatives in Romania – a crisis mostly of ideology and vision than of financial matters.
Fabrica de Pensule is now a place where many contemporary artists are working on a daily basis in their studios – covering media such as painting or sculpture, installation, photography, video or music. Most of what Fabrica de Pensule is known for internationally is vouched for by the mix of emerging or already established contemporary artists (names would make a far too long list to start here) and also for the place local galleries have taken on the international art market. Plan B is definitely the first to receive fame and offer a consistent side of the story which describes the contemporary art scene in Cluj. Simultaneously with the opening of Fabrica de Pensule, other galleries have started building up on what Plan B wasn't enough to cover in local art – Sabot should be mentioned, as well as other spaces active in different directions, be it painting or other media (currently there are 4 other galleries active in Fabrica de Pensule – Baril, Bazis, Intact and Lateral Art Space). The simultaneous international success of the Cluj-based artists and galleries has developed into a sort of magnetism that has since attracted many important voices of the international art scene, a magnetism that has also definitely had a word in how the local community relates to itself.
Besides the presence of visual arts in Fabrica de Pensule, a consistent part of the programme is covered by cultural organisations and producers active in various fields of contemporary culture. They produce relevant content in the performing arts, new media, visual arts and more multi-disciplinary collaborative projects, committed to offering a wide range of programmes to the local public, while also being involved in international partnerships. GroundFloor Group is focused on contemporary dance productions and contact improvisation, running the only CI festival in Romania, AltArt Foundation is a pioneer of art projects in public space and art interventions with a technological and digital twist, while Colectiv A runs the most important festival in Romania combining theatre, dance and video art – Temps d'Images. What goes beyond their specific programmes and adds an important value to their activity is a certain commitment to having an impact as a community, finding new forms of alliances that can make a change in the social tissue of the city, have an impact on the public policies influencing culture and urban development, or formulate a coherent position towards audience development.
Cluj is today a city aiming for the title of European Capital of Culture, a place where people are learning to regain ownership, but more than that – a certain appetite for appropriating and claiming public space according to their needs and reflecting their social habits, rather than hiding in a comfortable isolation of nicely decorated, over equipped and compulsively designed individual spaces. There has been a time for that, and we have all been victims to the transition syndromes of obsession over our private property, our personal benefits, now slowly turning towards a more community-supporting, collective feeling that makes us want to go out more, ask more questions to local institutions, or want to share a public space with hundreds of people for a cultural event or just for the sake of it.
One of the elements that makes Fabrica de Pensule such an organic project is directly related to this shift – while in recent years the public discourse regarding culture has been mainly focused on material infrastructure and the urge to establish huge facilities where technical needs are catered for, this vision lacking human infrastructure and the attention to creating valuable content has been balanced by an initiative run by people who want the audience and producers to feel good, but put a proportional investment into the relevance of the art and culture that it generates. The beginning of Fabrica de Pensule didn't follow on any big strategy planning of how the space looks like, what facilities it should have, but made a choice to concentrate on bringing together people and initiatives who have the strength of producing something relevant both locally and internationally, and who are committed to developing a wider audience and a social impact around their productions. While I am not advocating for eternal improvisation and while things have changed on the way for us too (we recently renovated, following the plans of a designer, our common space which has overnight became our Cinderella-kitchen/library/bar), I can still say that the forced choice we had to take between making things happen on the way and waiting for miracles to happen was a good one.
How all the different entities, obviously diverse visions and personal options manage to share ownership and commitment towards a collective project is sometimes a mystery even to ourselves, while we are constantly focused on keeping things going rather than finding the time and energy to analyse how they do. But in the end, the answer is probably in much more trivial details than one would expect – friendship and solidarity, underestimated and sometimes discredited, is maybe the most consistent part of what is definitely not a recipe and not more than an experiment, and do what toolkits and strategies have done in other places. While everyone is doing their work, paying their rent, developing their careers, following experimental roads or working with the audience, this (often negotiated) friendship is what can keep trust in a collective of any type, be it a cultural hub or a neighbourhood of a post-industrial city. That's what makes one feel welcome to stay and work (together or individually), participate or just flow as a carefree passer-by. This is what makes people come back again to Cluj, and this is what gathers visitors, as well as producers, in spaces such as Fabrica de Pensule. This is probably what gives all of us who are here to stay a feeling of belonging and a real connection with the world around.
The Paintbrush Factory in the net: www.fabricadepensule.ro