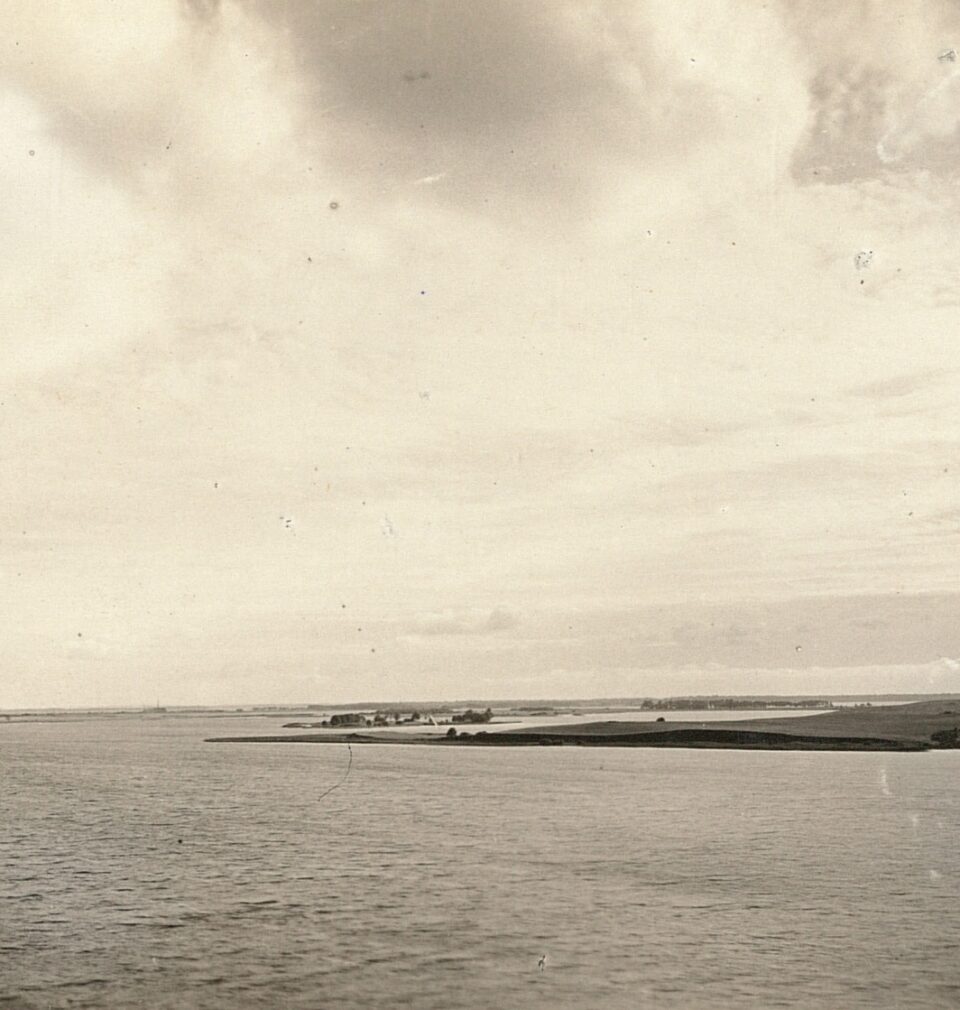 Reaching the invisible space of our life, constructing a new language, culture, and interpersonal activities within it are hard work – precisely because there are so many reasons why we push some issues into invisibility. Sometimes, it's the place of silence, sometimes – the place of exclusion and denial. And sometimes it's about the impossibility of expression.
Agata Wąsowska‑Pawlik: We came up with the idea of this conversation with regard to the latest issue of "Herito" magazine that discusses invisible places, but also because we wanted to highlight the thirtieth anniversary of work, both yours and ours. It seems to me that our work is largely about making the invisible visible.
Łukasz Galusek: My first thought went to the book by Marion Gräfin Dönhoff that was published by Borussia, originally titled "Namen die keiner mehr nennt" [Names no one mentions anymore]. It was the very start of your path. And even the word 'Borussia' came up as a name that needed to be localised and visualised. On the other hand, the name of "Krasnogruda" magazine refers to a real place that wasn't there – it had to be created.
Robert Traba: Gräfin Dönhoff's book came out in 2001 and was part of discovering a certain world. I consider this process to have its beginning in the year 1945, when I wasn't yet born. At some point, I realized that to my parents and grandparents, the place in which I happened to live, everything was different and strange. Suddenly, they hit this demographic void caused by the huge, forced migration. Only sometimes, here and there one could meet some familiar faces from Masuria or from Warmia. The area of the 'Recovered Territories', comparable in size to that of Switzerland, Austria, Greece, or Portugal, was repopulated by a huge number of completely disoriented people who had to give names to those places, make them familiar, turn them into a home. It is a paradox that the first step towards the identification with those new places was the ideology that called them 'Recovered Territories'. However, when discussing them in such categories, we forget to include people and their needs in this process – after all, everyone who arrived there needed to maintain their personal identity. I like to call this process a 'my‑fication'. It was necessary to name those ruins that welcomed them in order to make them home. I used to be more critical towards such actions, but now I view them as the first step of a process to which, in a way, I belong myself. In 1941, my dad was sent to Angerburg in East Prussia as a French prisoner of war. After the war, he found himself in the town of Węgorzewo where he came as a remigrant. It took him a while to realise it was the former German Angerburg. He lived several hundred metres from the former barracks. In my family's history, the experiences of previous generations accumulate. I have realised that it is our hereditary duty to continue this story and express it in our own words. Krzysztof and I were born as "children of luck", a generation that had enough self‑awareness during the historical breakthrough of 1989 that they could communicate this need in other ways than opposing someone else. Gräfin Dönhoff's book is a perfect metaphor for the "invisible places". But to me, the first time I got to escape a non‑place was a visit to Drwęck village in Masuria where we, Polish and German youth, were cleaning up the World War One military cemetery. I realized that by doing so, we were also restoring this place in the local awareness. That was the ultimate success of our project – those people said "It is our cemetery." Today, over a quarter‑century later, the people from Drwęck village fully included the cemetery in their historical memory. Before, for over five decades, they were not aware of this place's existence. The cemetery and the people buried there began to speak to us through their stories. As for me, I considered it an initiation to a different way of thinking about invisible places.
Krzysztof Czyżewski: Robert is right to call us the children of luck – the breakthrough of 1989 was a moment of opening up for exploring what was invisible and difficult, both in history and everyday social life. Reaching the invisible space of our life, constructing a new language, culture, and interpersonal activities within it are hard work – precisely because there are so many reasons why we push some issues into invisibility. Sometimes, it's the place of silence, sometimes – the place of exclusion and denial. And sometimes it's about the impossibility of expression. The concept of invisibility came up naturally in our work, albeit late. We included it in our lexicon when Misterium Mostu [The mysterium of the bridge] came into existence. We realised that our dream of building a trans‑border bridge can only come true as an invisible construction rather than a material one. The bridge becomes real thanks to the human actions, as we have learned from the people of Mostar. During the war, the Old Bridge was destroyed – a part of very important cultural heritage that later, thanks to international support, was rebuilt. But the question emerged: Do we still have this bridge or not? The answer offered by the people of Mostar was different from what we could have expected. They couldn't see a complete bridge where we clearly saw one; they believed that the only bridge they could consider real – connecting the members of the city's different cultures and nationalities – is yet to be reconstructed. But everything began with the word "borderland". Capturing the meaning of this concept turned out to be key as it was the invisible. On the one hand, such places were associated with never‑ending conflict as their inhabitants could remember wars, fights for the borders, as well as ethnic and religious divisions. But on the other hand, there was something deep under that we had to reach. It presented itself as a certain borderland ethos, a matrix of community and coexistence – within the realms of family, culture, or history. Much of it had been denied, questioned, and degraded by the histories of the past century. In our land, this process took a very long time, but the memory of it remained something invisible and yet present in reality. Invisibility is not the lack of presence; it isn't irrational nor ideologically charged, but it does exist, immanently and truly, in the matrix of land, memory, and culture. Such concepts as the ethos and people of the borderland, the last citizens of the Grand Duchy of Lithuania all referred to the invisible reality around us, cut up by new national states, by new names for their identity – names that ran along the ethnic borders, leading to strange situations in which one man chose the Polish nationality while his sister or brother opted for Lithuanian or Belarusian instead, like the members of Narutowicz or Bacewicz families. In borderland families, young people never learned about the Lithuanian uncle or Jewish grandmother – it was safer that way. Still, the pain and unspoken truths remained in the psyche of individuals and the community as a whole. Therefore, we needed a whole new toolset in order to bring the invisible borderland layer to life and find new cultural practices for it. The collective organism can only be healthy when all of it is looked after. That's when we can become the 'heirs of all of it', as Józef Mackiewicz demanded, meaning the legacy of the Grand Duchy of Lithuania. To Mackiewicz, the year 1918 marked the moment when the world of the old borderlands and the old civilisation was falling apart, making room for the nationalisms that wanted nothing but their own piece – and when there wasn't enough left for those who should have inherited all of it.
R.T.: We managed to bring something out of the time and place we happened to be in. To me, this might be the most important life experience and I am glad to be part of the in‑between generation that didn't end up invisible.
K.C.: Of course, there is something utopian about this project, we will never achieve it fully. But when it comes to the questions of inhabiting a place, the ecology of culture, and about "oikos" that is at the centre of our work in the lands that experienced displacement – then after 1989, we faced the challenge of rebuilding the space for life and creating the kind of culture that would ground us in it. The concepts of borderland and invisibility became an immanent part of the work towards creating a community, rebuilding the bridge, engaging in cross‑cultural dialogue.
R.T.: I have a feeling that we are now going through the phase of building rather than rebuilding. Rebuilding or recreating is something usually mentioned in the context of the 19th‑century national revival – and when discussing it, we tend to forget that sometimes, there was nothing to be reborn from, all there could be done was building from the ground up. We are spinning this illusion of the continuity of nations and keep repeating that once upon a time, those nations used to be happy – and now they aren't so we must return to the past.
K.C.: In my work, one of the very important building materials for a bridge – or for the borderland ethos – is the cultural memory, partly made of recalling and transgressing the tragedies within one's own family. The work of the bridge construction doesn't know how it is to build things from scratch. This work is always carried out in the places and communities in which something has been torn apart, divided, forgotten, or missed. As for "Pogranicze" [Borderland], we were trying to establish a new avant‑garde cultural centre. The very fact that it found its home in the synagogue – at first, this was an accident – and that it came into existence in the borderland area made the centre speak and naturally become part of our work. The line from Jerzy Ficowski's poem "Muranów góruje" [Muranów rises tall] – "All I want is to walk, but as I walk I trample" – is also what we have experienced. We wanted to go ahead and build a new Poland but we realised we are trampling over something, we saw the ashes under our feet, along with something omnipresent yet invisible – in the sense of being abandoned, unpresent, unremembered.
R.T.: You were allied forced of sorts. You got so deeply settled in this foreign place that you became an intrinsic part of it. As for me, I grew out of my place and I had to create it anew. I still define myself as someone undergoing the process of being a guest in his own home. As for the places in which I got to settle, there were several: the nearest are Olsztyn, Warszawa, and Berlin. A bit further out, there are Kraków, Lublin, Gdańsk, and perhaps Sejny where I can feel a connection with people and the kinship of minds. You grew out from being nomads to the global – while settled – producers of the inquisitive thought. I am a nomad, still looking for his one true place in this world. As for now, I haven't found it yet. In 2016, I was symbolically celebrating the 100th anniversary of the Traba family's migration across the world. And here I am, still wandering, and whenever I visit Olsztyn, I feel like a ghost in my own city.
A.W.P.: The contexts defined the tools, as you call it, Krzysztof, along with the ways of building tour visibility. But the fact that we're discussing a certain time period that has passed since your beginning does not at all mean the process of building responsibility for those places and the sense of community is complete.
K.C.: The idea of a toolset is also connected to invisibility: when we first introduced this concept, we had no idea it would apply to the invisible underbelly. Suddenly, we realised that we have no borderland toolset and the one we gained before as the people of culture – experienced in working in theatre and alternative underground culture before 1989 – is now anachronistic and inadequate to that new place. When we stood in Sejny, back then still as a visiting theatre, and told our story to the people of this town, it was exactly how the cultural experience was expected to look like: a theatre comes over, it presents a show, meets the audience, and off it goes, to the new place. That's when we realized that our spectators should be able to stand on this stage and speak for themselves. It soon became our priority – to come up with a toolset that would give voice to the local stories and life dramas of the local community we could then develop together. Creating the culture centre there meant we were no longer a theatre group. Soon, together with the Sejny youth, we set up the Sejny Theatre and the Klezmer Orchestra. Right after that, we set up the Sejny Chronicle workshop in which the local children listen to their grandparents' stories and translate them into the language of theatre, animated film, or literature. They become artists and storytellers of our shared creation. We had the language to call the conflict, our hardship, the pain suffered from the hands of others. We also had the rituals, ceremonies, and cultural events around it. But we had no language to express what connected us to one another. Borderland communities, just like any individual, have this deeply‑rooted need to express kindness towards the neighbour after a quarrel – the need for peace and sympathy, for expiation. In our workshop, we were facing the challenge of bringing out the good memories while maintaining credibility – that is, not shirking the conflict and hard truths about the borderlands. All of it was meant to generate the energy that could restore people's dignity. I have worked in many painful borderland areas, also during the wars in Yugoslavia and Caucasus, and in other places around the world. I have experienced the worst that can happen in the borderland area when the situation escalates to hatred. And yet, I saw the very same people feel the need to show kindness to others. Hatred is a fortress that can give you shelter only for a short time, after which it turns into a prison, often keeping you there on a life sentence. It's not a coincidence that among our borderland people are those who survived the Holocaust, or such people as Miłosz and Ficowski who lived through the hell of war. They remind us that without the truth of the heart giving voice to conscience, the borderland story would be untrue, too superficial; too eager to accept the tragedy of inexpressible nature of everything that's luminous within us; too quick to exclude everything that's different, invisible, homeless. Perhaps this is the most difficult part of the workshops and toolsets you asked about.
R.T.: As a generation, we grew up on antagonisms and concealment but it's not true only for the authoritarian times of our youth. The democratic European societies shared the same experiences, albeit in a different form. Critical memory is very important, but how much of this harrowing memory can we process as individuals and as communities? To build a democratic society, we need to even it out with affirmative incentives that sometimes lets us pass over what was wrong. The wise thing to do is make sure the silence doesn't settle permanently through the course of generational evolution. The fact that we were a product of silence and antagonism in an authoritarian country was a starting point for building the opposite – the dialogue and critical disputes, also about ourselves. In my case, it started with the Polish‑German elationship. In 1991, the first conference "Prusy Wschodnie: dziedzictwo i nowa tożsamość" [Eastern Prussia: The heritage and new identity] took place. It turned out to be a shocking breakthrough moment – when discussing forced displacement of people we said, for the first time: "Yes, we were the perpetrators, too". Because it was simple like that: if someone could have acted differently, and yet they beat and chase away those who had to leave, they were also responsible. It was not an admission of collective fault but an attempt at truthful dialogue. It began a chain of concepts that allowed us to create a different narrative about making ourselves at home in the 'Recovered Territories'. Kazimierz Brakoniecki started it, with his mental shortcut 'the Atlantis of the North'. At first, our discovering of something new was very important but I wouldn't want it to turn into a too‑simple a metaphor. This is why I based my thinking of the Atlantis on the 'open regionalism' – a way of identifying the reality through confronting the locality. It is the local that makes the universal narrative possible. Krzysztof made borderlands the central metaphor of his narrative but we are all from borderlands – we just need to find it. Some of them are tangible and real, like the one in Sejny, but it's an exception. We are only beginning to recall the fact that over a hundred villages surrounding Kielce were, in fact, shtetls. It's similar in Mazovia and somewhat different in the Lublin region. The narrative we're trying to create here – about Poland's rich identity of a borderland space where many dramatic as well as positive events took place, and where something meaningful came out of coexistence – this narrative is being pushed away. Instead, we get this idea of a monolithic, unified Polish identity, an idea that is false at its very core. When we published the 56th issue of "Borussia" magazine titled "Homo viator – Homo migrant" [Man as pilgrim – man as migrant], I said this in the very first sentence of my introduction: "We're all migrants! But what comes of it? Nothing." We couldn't process it, we couldn't even see it within ourselves. Oftentimes, when looking three or four generations back, we will see a dramatic migration story that was never processed – and if it were, it could help us better understand such issues as the 2015 migration crisis. Opening up to the dialogue with our family history can create a new space: if I identify with a place, such as Wrocław, then whether I'm German, Polish, or Czech, part of my shared heritage is not only the Hohenzollern Palace but also the 'Manhattan estate' designed by Jadwiga Grabowska‑Hawrylak in the early 1960s. After all, it's a remarkable feature of the local urban planning and if we identify with this city we should believe it also belongs to the heritage of everyone who ever lived there.
A.W.P.: The key is to generate responsibility for what we inherited.
K.C.: As Borderland and Borussia, we have been naturally placed in this wide understanding of what inheritance really means. We found ourselves in the places left by the people who are no longer there, and by cultures that exist only in residual form. Nowadays, my Jewish friends say we have no real Jewish life left here, just the dead shells of buildings such as the former synagogue or Hebrew gymnasium. But the absence of Jews speaks for itself, sometimes asking very unsettling questions that demand answers.
A.W.P.: Still, sometimes those questions need to be explained or translated. Laimonad Briedis, author of the book "Vilnius: City of Strangers", spoke about the invisible – and yet still present – Jewish culture during his lecture at the International Culture Centre in Kraków. The process of recalling and accounting for this absence happens through actions, such as those you mentioned before.
K.C.: I think when Robert spoke of the German cemetery, he referred to it as "ours". That's how we work for the cultural heritage – so that we can say "our synagogue", "our cemetery", and so on. What was once foreign and ruined, becomes our own and revived. That's also how I would describe the workshop and toolset I mentioned before.
R.T.: In fact, it's not only a case study for the Sejny region, Warmia and Masuria, but also for the vast part of Central and Eastern Europe. Such borderlands as the Slovak‑Hungarian, Romanian‑Hungarian, or post‑Yugoslavian are the very "signum" of our space.
Ł.G.: To me, the paradox of borders is very meaningful. We come from the generation to whom borders were still a visible thing. The border was something most revered, something one should never approach. And when nearby, the sight of the red sign was enough to make you feel uncomfortable. Today's generation knew no borders until the pandemic showed us they could come back. At the same time, we can see the longing for drawing and keeping borders is growing stronger.
R.T.: It's a frequent and important issue disputed globally. It stems from two reasons. The first is that the amorphous nature of globalism naturally pushes us towards the search for something defined and visible, with clear lines. This visibility makes us feel safe. Secondly, what happened in 2015 was not really a migration crisis but, as Timothy Garton Ash pointed out, Europe's identity crisis. Nobody is helping us get out of this identity crisis, and nobody is telling us who we are and how we can define ourselves in the globalised world. Those questions keep on coming back even more poignantly as the main factor of the identity crisis is renationalisation. In a world dominated by the American, Chinese, and Russian markets, nationalism and hiding behind one's own nationality seem like simple solutions, especially since the liberal side offers no alternatives from the opposite side. In his book "On Human Nature", Edward O. Wilson wrote that there is nothing wrong with borders themselves. There are borders within us, and we need them to call ourselves the way we do. But of course, the borders of individual identity are transferred onto communities. But the issue is not about the border itself. If you have a high sense of security and self‑identity, you don't find it challenging to open up to others. But if you're in crisis, the sense of autonomy becomes blurred and you start looking for it elsewhere. It's the process we are currently living through and we mustn't make light of it.
K.C.: The work we do in borderland is not about blurring the borders, it's not about wiping them out. It's an art of transgressing them, embracing them as our own and finding them a place within our shared world. Nowadays, cultural borders are becoming much more challenging than national ones. Working with youth is increasingly about the art of crossing those borders and overcoming cultural divisions. The world is becoming more and more tribal, divisions are getting sharper, casting favourable light on some people while excluding all the rest. Academics in America say the new generation struggles with the idea of status. In the past, its rules were simpler and more transparent. Nowadays, status is achieved mainly through the stigmatisation of others: finding their weak spots, condemning them, denouncing, vilifying. All it takes is a cultural excuse. It should be our priority to open culture up from the inside out. Broadening the borders of culture is now more important than cross‑cultural dialogue. Being proud of our cultural diversity is not enough when our connective tissue is in a state of atrophy. Our future depends on our ability to call the things that surround us 'ours' – to say that of the things that are near us, in Europe, and between one human and another. A great deal of cultural work awaits us, and the future of the European Union is also at stake here. In my opinion, it can survive only if becomes a shared cultural project rather than perceiving culture only in terms of narrow national borders. European Union must view culture as the glue that makes us a community. Culture doesn't only cause divisions, the way we often see it today, but it also connects one to another. And it requires a certain toolset. Without Europe becoming a cultural project, complete integration will not be possible. We have never lived in a fully‑realised utopia. But the changes that helped us overcome crises worked only when we set out on a path with a clearly marked horizon. If we fail to draw its line ahead of us, we will be doomed to internal oblivion.
Translated from the Polish by Aga Zano