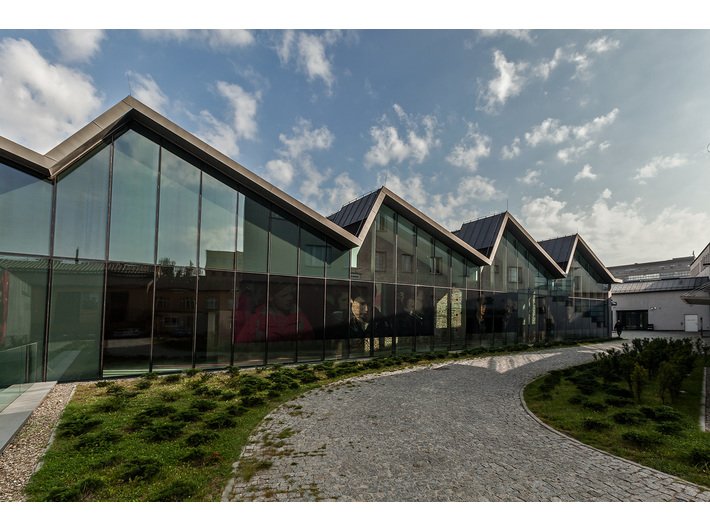 Art and Heritage in Central Europe
To mark the 10th anniversary of the opening of MOCAK, they have launched a new series of film screenings entitled Thursdays with the Artists from the MOCAK Collection. In the audiovisual room throughout the day during the Museum's opening hours they show interviews with the artists whose works are in our Collection.
In November and December MOCAK presents an interview with Markus Muntean and Adi Rosenblum, aka the artistic duo Muntean/Rosenblum. The artists talk about the most important components of their art as painters and their sources of inspiration. In 2018, the works of Muntean/Rosenblum were presented in their individual exhibition at MOCAK. Currently, their two paintings which are part of the Museum's Collection can be viewed in the exhibition "Contemporary Models of Realism".
Read more: https://en.mocak.pl/thursdays-with-the-artists-from-the-mocak-collection-muntean-rosenblum
On Saturday 13 November at 3 pm, Mosaic Group, Nausika Education Foundation and MOCAK invite you to the latest edition of talking about art for everyone – Art Café. This time the traditional formula of the event will be enriched by a meet-the-artist session with Piotr Lutyński, during which we will jointly reflect on what contemporary art is.
Sessions in this series are based on parallel discussions in groups of several people, with the context being the participants' own experiences and the emotions aroused in them by the works. Each group has its own moderator assigned. The November edition of the event will be divided into two parts. The first will traditionally take place at selected exhibitions. In the second part, the participants will move to the audiovisual hall to meet the artist Piotr Lutyński.
The event provides a good opportunity to take a closer look at the exhibitions in the MOCAK Collection: "Art Feeds on Art", "The Artist Is Present" and "Architecture as Symbol, Text and Backdrop". The session will be held in Polish and English.
Read more: https://en.mocak.pl/art-cafe-open-discussion-on-art-meeting-with-piotr-lutynski-pl-eng
On Sunday 14 November, to mark the Open Day of Krakow Museums, all visitors are entitled to discounted tickets at the price of 7 PLN. Visit MOCAK for the special events. At 1 pm MOCAK invites for a guided tour in English. The tour will include the exhibitions "Art Feeds on Art", "Symbols of Life after Death: Commemorative Sculpture by Krzysztof M. Bednarski" and "Architecture as Symbol, Text and Backdrop".
Read more: https://en.mocak.pl/guided-tour-in-english-open-day-of-krakow-museums