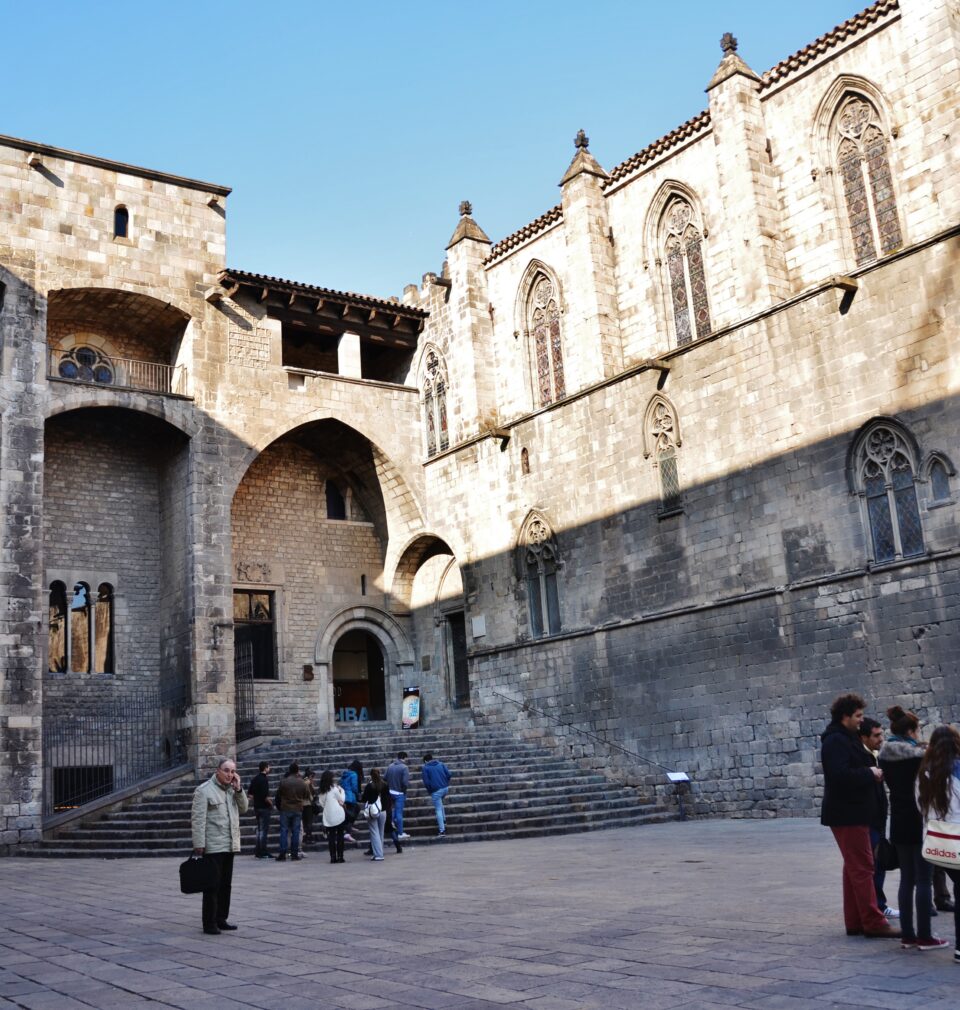 Cities both represent and to a certain degree extend those age-old processes which, measured in centuries, are the origin of European history.
Leonardo Benevolo, La ciudad europea[1]
Only when it ceases to be an unstudied cult object which is unconditionally granted value, when it is no longer a relic or recreational object, can heritage truly become the invaluable territory of the memory of ourselves in the future.
Françoise Choay, Alegoría del patrimonio[2]
Barcelona has changed a great deal in recent decades. But once there, visitors usually find themselves prisoners of a pre-established vision of the city which is more closely related than it appears to an idea of the city that congealed in the mind of society about a century ago, adding the great museums, some new urban milestones, the Poblenou waterfront and perhaps the various spaces of worship of Barcelona F.C.. Proof of all this is that the majority of visitors circulate within a corridor of variable width ranging from the port to Tibidabo – in a city characterised by expansion parallel to the coastline, from Besòs to the Llobregat. And this east-west axis of development has, for a long time now, not only represented growth, but also an increasingly polycentric distribution of monuments.
What is now considered worthy of visiting can be to a large extent found in the 1917 edition of a business and tourist guide called Barcelona artística e industrial[3], in which images of factories and related activities are interspersed with images of monuments. To the images of Barcelona as a modern city – with multiple pictures of the l'Eixample[4], or the area of new expansion and the remnants of the 1888 Exposition[5] – were added Barcelona's great medieval buildings and the then brand‑new monuments to Modernisme[6], from the Palau de la Música to the Casa de les Punxes, la Pedrera and Park Güell, as well as the Sagrada Familia Cathedral which is still under construction. By that time Modernisme had already fallen from favour but its impact on the urban landscape was difficult to ignore.
It was during this time that the Lliga[7], with architect Puig i Cadafalch as its most notable member, promoted the potential monuments of a newly-homogenised city, heir to Cerdà's urban planning. The second exposition at Montjuïc[8] and the opening of Via Laietana, with its buildings whose aesthetics were inspired by the ordered historic eclecticism of the Chicago School were in the planning stages. In the end, the decision was made to complete the new avenue as the vertebra of the political and religious seats of power, with a recreation of Barcelona's past conceived as a heritage-based antidote to the bouts of social unrest that periodically shook the city. The concomitant archaeological excavations also revealed the city's Roman stratae, evidencing Barcelona's membership into classical Mediterranean civilisation, along with proposals for a Gothic district, which would show a burgeoning Catalan nation during the low Middle Ages and a Christian city that was socially organised by guilds[9].
The project's completion was assured by the solid support of the more conservative Catalanist proponents and the relative indifference of the political sphere regarding considerations of heritage. Work begun in 1927 under a multifarious set of historical conditions. The Neo-Gothic bridge conceived by Rubió i Bellver over the Carrer del Bisbe, built in an exhuberantly florid style with a Nordic accent which was inaugurated just before the 1929 World Exposition, is still one of the most photographed monuments of Barcelona. Work on the Barri Gòtic continued, despite its vicissitudes and stoppages, through the Republic[10], the war and the Francoist period: it was Agustí Duran i Sanpere and Adolf Florensa who made sure construction continued up to the 1970s. This undertaking was what led to the creation of the Barcelona History Museum, which finally opened its doors in 1943 in the Casa Clariana-Padellàs, a palace which was brought, stone by stone, to the Plaça del Rei from the other side of Via Laietana.
The long-lasting perceptual and heritage paradigm of noucentisme[11] largely benefited from an articulation between urban, architectural and heritage actions on the one hand, and a highly efficient publicity machine that created an image and its accompanying narrative on the other. To put it in terms coined by Alain Roger, they acted on both the constructed city (artialisation in situ) and on the construction of its image (artialisation in visu)[12]. The desire for legibility was inherent to the idea of creating a representative landscape like the one advocated by the regionalist Lliga. However, this urban legend would soon find itself up against a counter-legend: that of Barcelona's red light district, known as Barri Xino (the name alludes to San Francisco's Chinatown) – half working-class and anarchist, and half bohemian and flamenco. The making of this myth featured writers and photographers who felt an aversion to the predictability of those areas of the city representative of noucentisme, populated by writers from North America and Europe, and especially France.
For some time, visitors to the city could place their personal narrative regarding Barcelona between these two myths, which were separated by La Rambla, between a "Gothic wing from which one could hear clear, sonorous fountains and 15th century lutes and another wing, cruel, multicoloured and unbelievable, with the sound of accordians played by sailors from all over the world and a nocturnal rush of painted lips and loud laughter at dawn," as Federico García Lorca wrote. The republic lasted too short a time period to alter this state of affairs and was followed by the war and the long night that was Francoism. And despite all the changes this vision still endures, albeit in a latent manner.
The sociological transformation of the 1960s and 1970s and the accompanying cultural and political effervescence re-established the balance between urban space and heritage in a city which had grown significantly in the interim. Alexandre Cirici played a pioneering role in this transformation, firstly, in his restoration of Modernisme as artistic expression and manifestation which was decisive in the shaping of Barcelona and Catalunya as modern and European, and secondly, and not least important, for his book Barcelona pam a pam, published in 1971.
In this work, which strived to be more than just a guidebook, Cirici's point of departure was a new urban dialogue that required recreation of the historical discourse to include the demos of the city as a whole, "la nostra Barcelona és tan filla dels comtes francs com dels manobres de Jaén" ("Barcelona is just as much the daughter of French counts as that of labourers from Jaen"), from which emerged an expansion of heritage elements in terms of type, chronology and territory: from the centrally-situated intersection of Avenida Diagonal and the Passeig de Gràcia to "tota la corona d'àrees vivents que ha de donar vida a l'altra Barcelona que somniem" ("the full arc of living areas that have to bring life to that other Barcelona that we all dream of")[13]. His vision of Barcelona as museo all'aperto (an open-air museum) did not point to, therefore, a view of the city as its own archive, but towards an extension of heritage values, bearing in mind a city that had grown immensely and which desperately required change.
For more than twenty years Barcelona pam a pam was an influential work. It was a guidebook for those who wanted a historical perspective whilst wandering through the city. In 1992, the year of the Olympic Games in Barcelona, the book came out in its ninth and last edition in Catalan. The urban transformation that he had alluded to since its first edition was in full swing. Situated halfway between Cerdà and GATCPAC's[14] plans for a modern and hygienic city, and the desire for meaning and representation on the part of Puig i Cadafalch and other noucentists, Oriol Bohigas' order to "santise the centre and monumentalise the periphery" had struck gold.
The city changed with increased re-zoning of land for public spaces often incorporating heritage elements in some form or another[15]. The success of the operation was even recognised internationally. Yet Bohigas postulated an enormously lax relationship between heritage and history[16]. The sediments left behind by the past cannot be interpreted within their own substance, they should only represent a constriction for current work as determined by the architects. Thus Barcelona became a city that was more historicist, but less historic. The recollection evoked by heritage elements that were incorporated into new architecture did not remit to a specific trajectory, but rather alluded to a generic historical identity.
At the outset, this heritage practice was the object of little debate as its objective primarily involved single plazas or public facilities, it seemed to be a more democratic view of public space that could do away with the grey, Francoist Barcelona. With time, however, dissatisfaction grew – many felt there was a certain disembodiment of the said elements with their physical and human environment. When the city's industrial past was permanently behind it and the new Avenida Diagonal was extended through Poblenou in 1999, there was debate about what should be designated as Barcelona's industrial heritage[17].
The progressive increase in heritage designation in the midst of rapid and significant urban change seemed insuffucient to some and excessive to others. But everyone acknowledged that there was a problem: what criteria-based approach to follow in heritage interventions? Much has happened since Ruskin and Viollet le Duc, since Riegl and Sitte, since Boito and Giovannoni, since Jeroni Martorell, Puig i Cadafalch, Duran i Sanpere and Adolf Florensa. And yet there have been quite a number of recent proposals, seemingly new, which are rather an eclectic echo of these and other classics. To examine this issue a little further, as Françoise Choay has already suggested in 1992, perhaps we can determine just what is new and what is old in approaches to heritage in a world that has changed, most notably in the impact of communication technology and the accessible transportation on the creation of social bonds. How do we handle these multifarious new elements as heritage potential? How do we approach the relationship between history, heritage and citizenry?
Museums as centres for cultural R&D&i
In the 20th century, the efficacy of an ideal heritage programme was determined by the relationship between historical discourse and heritage intervention on the one hand, and the image of the city and the social and touristic objectives of the operation on the other. But today's budgets are different; we have gone, as Alexandre Cirici stated over forty years ago, from an ideal that sought adhesion with an ideal community to objectives that seek a more inclusive relationship, with more nuanced historical discourses – although there is still much to be done in the history of Barcelona – and heritage goals that are broader and more complex.
How do we achieve these goals when the issue has been atomised among a multitude of professional disciplines and institutions? The Museum could very well represent the meeting point, as set forth in MUHBA's Strategic Plan, announced in June, 2008.
Research in history and heritage.
It is clear to us today: without research, the cultural, social and economic role of museums cannot grow. The Barcelona History Museum cannot achieve its goals with a hetergeneous list of experts consulted whenever necessary in an ad hoc fashion. It requires an internal forum that is more articulated, consisting of both in-house staff and external experts, in close collaboration with universities and other institutions. This is how in 2008 the MUHBA Centre de Rercerca i Debat (Research and Debate Centre) was created to promote research in history, heritage and new formats of interest to the Museum, but also to involve as much of the public as possible. Its complement, the Centre de Documentació Històrica i Patrimonial (History and Heritage Documentation Centre) has also recently begun to works. With regard to heritage and urban landscape intervention activities, the Museum has established a master's programme organised in collaboration with the Universitat Autònoma de Barcelona. When we finally put the industrial past behind us, and begin to think about its conversion into heritage, when the relationship between citizens and heritage is visibly altered by the displacement favoured by global communication technology, this reflection becomes urgent. All this without losing sight of the debate regarding actions to take on a new section of a Roman wall or the Medieval Jewish necropolis of Montjuïc in the 21st century: matters which have given rise to complex legal and cultural issues.
Relational system of centres.
MUHBA is more than just a museum of history; it is a city museum, not only linked to time, but also to space. In its strategic plan, MUHBA has established a narrative for the city, articulated among three main centres. Like individual waves that roll over each other when they break, each museum has created exhibitions that relate to each other as a whole but which are also visitable as stand-alone exhibitions. The Museum comprises the Plaça del Rei and two new museum centres currently under construction at the Born Market and the Oliva Artés factory.
The Plaça del Rei represents historical periods ranging from the Roman city of Barcino, to Barcelona of the high Middle Ages and the magnificent Gothic buildings of the Palau Reial Major. This is MUHBA's first museum and headquarters, and a significant amount of work went into its development. The magnificent work of architect Josep Llinàs and the museum preparation that followed, represented the point of departure for the museum project on the Low Middle Ages two years later, for which the Museum has just recently acquired an exceptional piece: the hull of a ship from the Atlantic Ocean that was discovered next to the port.
The story of Born Market begins in the 16th and 17th centuries, in the then dynamic area known as the Ribera district – which was subsequently demolished by Philip V as part of the programme of submission of the city of Barcelona and the region of Catalonia after losing the War of Spanish Succession. Its story continues in the resurgence of ambitions for the capital and national reconstruction after the 1868 revolution. At this time Philip V's hated Ciutadella fortress was converted into a public park and science museum (Museu Martorell) and its surrounding area was transformed by an ambitious construction programme, with the Born Market as its centrepiece. Today, work continues on the market, despite difficulties encountered in roof restoration works; some materials have already been published for Barcelona 1700, the exhibition project on the area's archaeological site.
The Oliva Artés Factory, located right in the centre of Poblenou next to Avenida Diagonal, is an old industrial complex containing the two Can Ricart factory buildings. Once finished, these spaces must serve as a window onto the emergence of the industrialised city from its initial suburban expansion to the metropolis of today. Associated work on its contemporary collection has received invaluable support from the public-at-large and private enterprise: the Museum will soon present a donated antique Seat 600 car as a future exhibition piece[18]. We also hope to have the small-scale model of the city used in the Fòrum 2004 as part of the collection: its powerful multimedia system will undoubtedly have an impact on the museological planning for this cultural space.
This axis comprising three centres acts as the backbone for the Museum's network of spaces, each with its own profile which must conjugate its internal offerings and capacity with the remaining museums. Thus the Monastery of Pedralbes Museum acts as the reference for Gothic innovation and the role of religious institutions; the future museum at the Fabra i Coats factory will examine the realm of work; Vil·la Joana, currently being remodelled as the Casa Verdaguer de Natura, Literatura i Ciutat and the Call Interpretation Centre[19], whose point of departure is the city's Jewish legacy from the Middle Ages, examines various perspectives on cultural history. Other offerings include the metamorphosis of Barcelona at the start of the 20th century, a re-examination of the link between Gaudí and his patron in the new museum at Park Güell and the connection between war and city in two museum spaces: the Air-raid Shelter of Poblesec and the Anti-aircraft Batteries of Turó de la Rovira, just to name a few.
Our objective is to create a historical perspective in which the long passage of time and its individual events, everyday life and political vicissitudes, the material and symbolic elements of existence, micro-history and macro-history all come together to form a coherent and open museum system. Achieving this objective is not the work of one day or a single individual, but must be the result of progressive work through temporary exhibitions, multiple projects in various formats and the work of diverse interdisciplinary teams that are a functional part of the Museum's Research and Debate Centre.
Museum as Agora.
This debate has come to be one of the highlights of the so-called critical museology, especially  in contemporary art museums: the museum as part of public space, permeable. This requires prudence, as the idea is not to abandon museum autonomy for an uncertain heteronomy. In the case of a museum with a solid base in heritage like MUHBA, the notion is also physically manifest in its museum centres which are seen not as isolated institutions but heritage foci that are part of the urban fabric.
The Project known as Transnational Barcelona. Connected Citizens is the museum's pilot experiment that brings together various formats and agents – a good number of organisations have participated, in particular those formed by immigrants – with a clear purpose in mind: to ensure this network's continuity in the future. The expansion of the Museum's demos, in a city forged by successive waves of migrants, is certainly part of its fundamental mission.
Thus the notion of the museum as agora favours the movement away from a programming policy solely based on the creation of a cultural offer to policies arising out of real contact with public demand, and not only through social, cultural and academic networks. In this sense, we need to stress the importance of strong ties to the schools located in the Ciutat Vella, a relationship that the Museum has been fostering for many years, and the regular contact with hospitals and geriatric centres (The Beautiful Cure Programme, which began in March 2009 at the Monastery of Pedralbes Museum). Although they only constitute a small part of the Museum's activities, the programmes that address the demands of the public positively influence the programming as a whole.
Another level of involvement, in this case more intense, is found in the project for the Fabra i Coats centre. Thanks to the Amics de Fabra i Coats, the association founded by ex-factory workers, we have been able put together a collection of more than 1000 pieces and recover a sizeable portion of the company archives, whilst offering tours to the factory's power works, whose restoration is pending.
Cognitive Itineraries.
In light of our vision of museumification of spaces as dense foci of heritage sites, the difference between "Museum visits" and "City tours" tends to disappear. A tour is not a mere set of points of interest stitched together; apart from making sure they are conceptually sound, we should also pay careful attention to their formal composition, e.g. rhythm, order, climax, pauses and conclusion. A tour that is well-constructed and presented is just like a play. The act of wandering productively through a city on one's own, as mentioned earlier, is, to a certain extent, an artform.
Our intention is to work towards a type of tour which incorporates and explains heritage elements departing from a clearly expressed initial question[20]. Thus, for example, from the centre devoted to the soon-to-be-opened Roman necropolis road (Via Sepulcral Romana) at the Plaça de la Vila de Madrid, which has been taken as the starting point for the route known as Barcino/BCN: a trip to Barcino, which tells the historical tale which occured between the various parts of the Roman city, both inside and outside the Museum's walls, concluding with how these ruins were discovered thanks to the monumentalising spirit of the 20th century. Or the creation of another perspective on Modernisme, in a historical rather than stylistic light, in the route called City and Nation: The Representation of a Capital, that will show visitors examples of Modernisme which are then compared to buildings constructed under the formal imperatives of noucentisme. Or in a final example, Barcelona in Diagonal, a long-distance route whose unifying theme is a single avenue but along which visitors will be shown the various architectural options and changes experienced by the city over a period lasting more than a century.
MUHBA meeting point
A good city, in terms of tourism, is one which can incorporate visitors into its normal, everyday workings; a city without an apparent network of monuments, spaces and services exclusively frequented by tourists. This is essential if we want to do away with that feeling – something quite real in some areas of Barcelona – of tourist congestion.
Our suggestion in this respect is that perhaps the problem does not lie in the mass influx of people – which could very well represent a problem – but in an over-simplistic view of the city; a view which unfortunately is quite common and which makes it difficult to diversify options and extend the territorial range that might be considered of interest. Addressing this issue is just one of MUHBA's objectives. Of course it is clear that the indirect impact of the Museum's activities on visitors' attention may be greater than its direct impact: its mere existence may have an influence on what other tour operators choose to add to their city tours.
Our objective – albeit a challenging one – is to view the tourist as being just like us, and vice versa, to instil the travelling spirit into Barcelonians and encourage them to discover their city. And MUHBA is doing just that: aspiring to become a centre for R&D&i in cultural innovationcultural innovation, bringing together history, heritage and citizenry.
An extended analysis of the topic has been published as "El Museu d'Història de Barcelona, portal de la ciudad" in the review Her&Mus. Heritage & Museography, 2/2009.
***
[1] Leonardo Benevolo, La ciudad europea, Barcelona 1993, p. 224. Quote translated from the Spanish.
[2] Françoise Choay, Alegoría del patrimonio, Barcelona 2007, p. 236. Quote translated from the Spanish.
[3] Barcelona artística e industrial. Lujoso álbum de fotografías con un resumen histórico de la ciudad, Barcelona 1917.
[4] Spanish. Ensanche, literally "extending" which refers to the project of extending the city to the north‑east of the Old City carried out from 1859 according to the plan of Ildefons Cerda i Sunyer [footnotes are from the editors].
[5] This undertaking brought international fame to the Catalonian industry and gave impetus to the emerging new architectural style – Catalonian Modernism.
[6] Catal. el modernisme català, a mostly architectural style developing in Barcelona and other Catalonian cities between 1885–1920 and connected with a wider current of Catalonian cultural and political revival.
[7] Catal. Lliga Regionalista de Catalunya, a conservative party founded in 1901 in Barcelona which gathered together the so-called catalanistas – advocates of the Catalonian self-government or autonomy.
[8] The Barcelona International Exposition opened in 1929. It covered the area from Montjuïc hill to the plaça d'Espanya, and its most important element was the monumental Palau Nacional, now the National Museum of Catalonian Art (Museu Nacional d'Art de Catalunya).
[9] The proposal was made official in 1911 by Ramon Rucabado, who suggested adding a "Gothic Quarter" to the cathedral's surroundings involving an architectural "style unification plan", as a response to the destruction of neighbourhoods and monuments by a "democratic, antithetical and anti-civic spirit" that had "no regard for the soul of the city"; cf. Ramon Rucabado, "Un barrió gótico en Barcelona", Cataluña, 189 (1911), p. 309 and 311.
[10] Properly, the Second Spanish Republic, Catal. II República, which existed between April 14th 1931 to April 1st 1939; that is from the fall of the dictatorship of Miguel Primo de Rivera and the leaving of the country by King Alfons XIII, to the ultimate victory of the nationalist forces in the Spanish Civil War.
[11] Catal. noucentisme – A Catalonian cultural and political movement initiated in the first decade of the 20th century (hence the name: nou means in Catalonian both "nine" and "new"). The movement proclaimed that the new century would be a century of changes leading to civil and social order in art triumphing over the Romantic tradition and Modernism.
[12] Alain Roger, Breve tratado del paisaje, Madrid 2007.
[13] Alexandre Cirici, Barcelona pam a pam, Barcelona 1984 (6th Edition), p. 1.
[14] Catal. Grup d'Arquitectes i Tècnics de Catalunya per al Progrés de l'Arquitectura Contemporània, Group of Catalonian Architects and Technologists for the Advancement of Modern Architecture, active in the 1930s. A group of young architects, successors to CIAM and Le Corbusier, who promoted the preparations of Barcelona for the role of a well-organised, industrial and working-class capital of an autonomous Catalonian state within Republican Spain.
[15] See Ramon Grau and Marina López, "El concepto de monumento histórico en Barcelona, 1835–1982", in: Urbanismo e historia urbana en el mundo hispano, Madrid 1985, vol II, p, 1055–1064.
[16] Oriol Bohigas, Reconstrucció de Barcelona, Barcelona 1985.
[17] See articles by S. Clarós, L. Estrada, J. Roca and M. Tatjer in dossier entitled "La Barcelona industrial, un patrimoni vergonyant?", L'Avenç, 288 (2004) and Joan Roca i Albert, "Un país en cerca de retrats" in La Catalunya paisatge, monographic issue of Nexus, 36 (2006), p. 50–61.
[18] Courtesy of de l'Associació Memorial Democràtic dels Treballadors de Seat.
[19] The museum branch is housed in Villa Joana – a traditional Catalonian mansion, a typical stone country house, today on the outskirts of Barcelona. The name Casa Verdaguer refers to the poet Jacinto Verdaguer, one of the greatest artists of the Catalonian national revival, who died in this house. In accordance with its future name the branch is to be turned into a meeting place of nature, literature and the city.
[20] On itineraries and their form, Joan Roca i Albert: "El itinerario como forma artística", in Tour-ismos, Barcelona 2004. For the relationship between itineraries, city and education, see Joan Roca i Albert: "Apropiarse de la ciudad" in: Ramon Parramon (dir), Arte, experiencias y territorios en proceso, Barcelona 2007, p. 120–125.