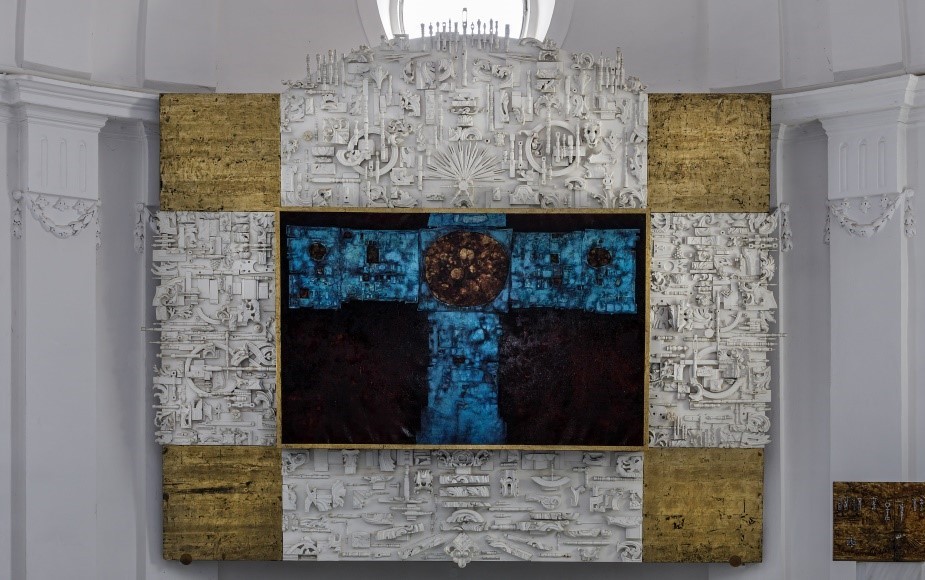 Art and Heritage in Central Europe
The exhibition in Olomouc presents an art historical view of a wide range of realisations of sacral architecture, pictorial and sculptural works, and diverse realisations in applied art in specific interiors. These works were created during the fifty-year period of communist totalitarianism, in a climate and time of targeted atheization of society and often cruel restrictions. Nevertheless, it has sometimes been possible to realise high-quality and modern works of art in churches, often as part of necessary restoration work. What stands out all the more is the emphasis on the truth and ethos of the approach of the creators, who, moreover, in many cases brought among the classical forms the manifestations of the contemporary and modern perception of the artist of the second half of the 20th century. Behind the individual works, we can find the stories of courage, commitment, and dedication of the personalities of the commissioners, the priests of the individual parishes, and on the other hand, the artists.
The aim of the project is to contribute to the understanding of one of the neglected chapters of Czech history and to document the role of visual arts in the worship space of Christian churches acting in the Czech lands between 1948 and 1989.
The exhibition is open from October 27, 2022 to April 9, 2023.
Read more: https://muo.cz/en/sacred-art-in-unholy-ages-czech-sacral-art-in-1945-1989–3983/