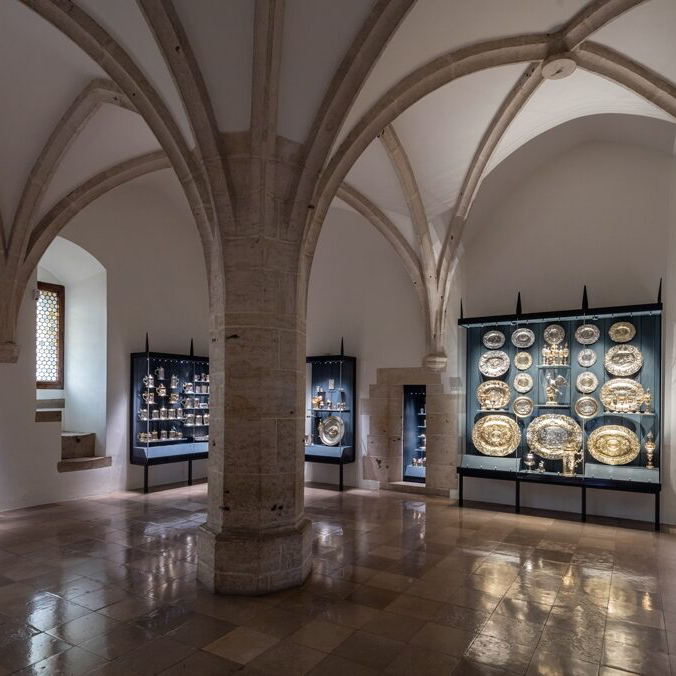 Art and Heritage in Central Europe
Wawel Royal Castle in Cracow underwent a major transformation that resulted in the reinstallation of the exhibitions in the royal castle.
After a break of six months, the Crown Treasury permanent exhibition has just been reopened, with a brand new arrangement.
The exhibition conceptually refers to the historic institution that once existed in the same place, namely the Crown Treasury—a manifest sign of the sovereignty of the Kingdom of Poland and later of the Polish-Lithuanian Commonwealth. Since the fourteenth century the crown jewels and other insignia of royal power (crowns, scepters, orbs, and the sword Szczerbiec) were kept in the Treasury alongside various other precious objects and exotica, comprising together the official state treasure.
As a result of dramatic events in the Polish-Lithuanian Commonwealth, leading up to its disappearance from the map of Europe in 1795, royal and aristocratic residences were destroyed. Today, their extravagance and diverse adornments are known only from randomly preserved descriptions, inventories, and surviving objects scattered all over the world. Due to successive wars, changing borders, and the perturbations of history, even the grandest families lost wealth and collections built over many generations.
In the troubled times of the last two centuries, palaces, manors, townhouses, and even royal tombs were looted. For these reasons surviving Old Polish jewels are primarily ex votos in churches, while museums can boast of only small collections of jewelry. The Wawel Royal Castle collection is one of the largest in Poland and includes such rarities as gold Romanesque jewelry excavated on the site of the ducal and royal residences on Wawel Hill, royal gifts from the 15th and 17th centuries, and several Western European Renaissance and Mannerist masterpieces.
Read more: https://wawel.krakow.pl/en/exhibition-constant/crown-treasury#1