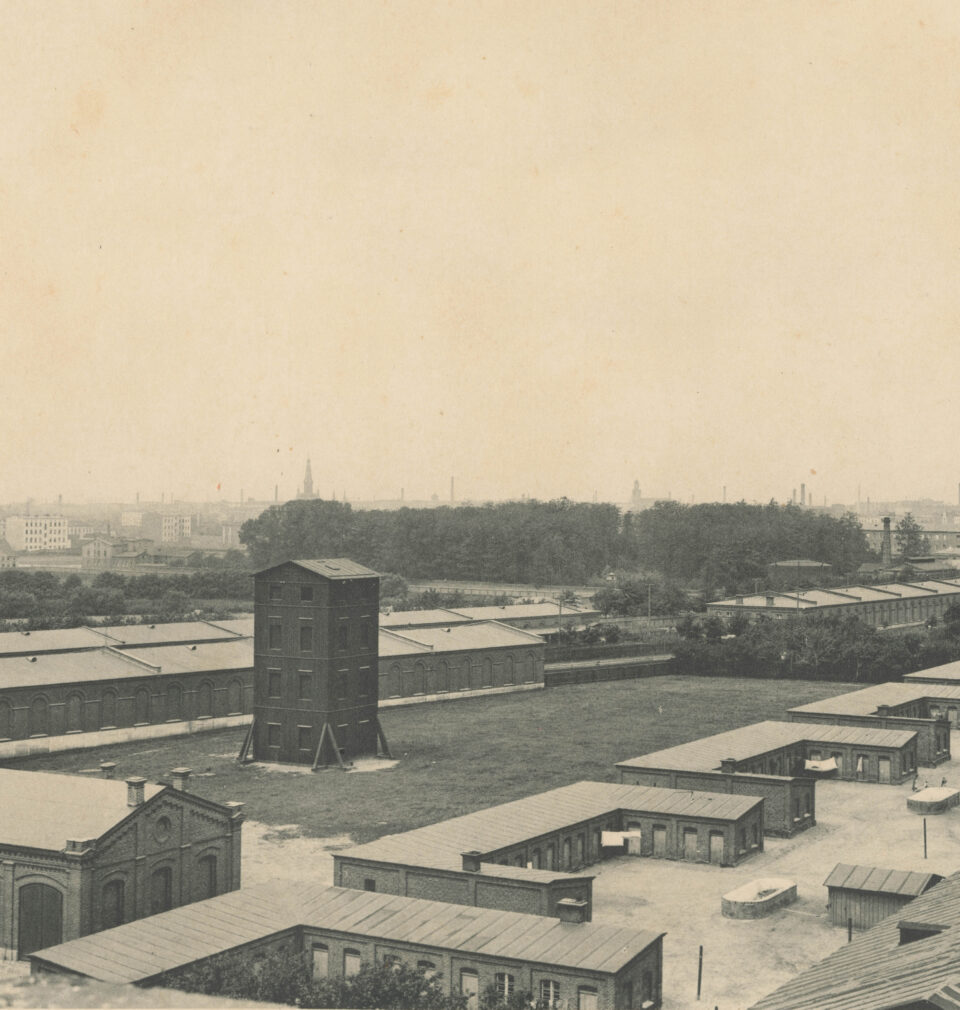 "In Vienna, the regulars come together in 'cafés' to discuss the latest political news; in Warsaw, 'people' gather to see each other and flirt lightly; in Łódź, the tea room is a market, where from morning to night you talk about 'business' calculations are done on marble tables, during the transaction you speak the language of business – German, and after settling the matter – Polish or Yiddish … Each situation has its own language – appropriate to the moment – which is spoken by the inhabitants of Łódź."[1]
This is one of the observations made in a journalistic sketch at the beginning of the 20th century by Stefan Górski, better known under the pseudonym, Michał Nałęcz. The city – a microcosm of the world and civilisation – is a space, social structure and history of the individual and the community. Apart from the physical dimension (a defined territory, streets, buildings…) the city is also the community's "system" of life: the language, code of behaviour, tradition, model of existence of its inhabitants and their everyday activity. Łódź at the turn of the 20th century was a multi-cultural town developing at a dizzying pace. It owed its rapid dynamics of change to its exceptional concentration of capital and industry, mainly textiles, within the then Kingdom of Poland. Successive generations of industrial bourgeoisie determined the character of the city. "Łódź, in spite of the fact that it is neither a country nor a state, has its own people, known from the German as lodzermenschen," wrote Stefan Gorski. "Their original homeland was Germany. Their long, several-generational stay in our country eventually transformed their German patriotism, but the end point was not Polish nationality. They are people who are usually without political principles. They found their homeland in Łódź. It was here that they gained their livelihood and positions. They became attached to the city and today are very patriotic lodzermenschen."[2]
The term "lodzermensch", which is the same in German and Yiddish, is a historically closed concept coloured with ironic connotations. It constitutes a type of strongly rooted myth linked with the development of the city, a kind of cliché clarifying the specific nature of the Central European industrial metropolis at the threshold of modernity, a notion that allows social identification. It is synonymous with the brutal egoism that is appropriate for the nouveaux riches in a land of great competition. Lodzermensch is also a literary creation. The term appeared for the first time in the novel Bawełna (Cotton) by Wincenty Kosiakiewicz, writing in Kurier Warszawski, Tygodnik Ilustrowany, as well as other news-papers and journals. It is impossible not to mention Władysław Reymont's novel Ziemia obiecana (The Promised Land), first published in Kurier Codzienny (1897–1898), and then for the first time in book form in Warsaw in 1899, as well as the two film versions by Aleksander Hertz (1927) and Andrzej Wajda (1974), the latter which was nominated for an Oscar. It is these films which have had the strongest influence on the contemporary understanding of this word.
During a discussion which took place in 1998 in the editorial board of Tygiel Kultury, Krzysztof Woźniak drew attention to the difference between the oral transmission of the lodzermensche and the image created by literature: "In workers' stories, [lodzermensch] is always a person who is, above all, hard-working and resourceful, but also takes care of the little ones; he tries to embrace working class districts, schools, nurseries and pharmacies etc. with his paternalism. However, the literary myth only presents a morally degraded figure. Let us add one more thing, that in all literary transmissions, the heroes become lodzermensche at the moment that they abandon their hitherto world of values, and leave their family roots. In Łódź they find another god, the god of money and success, and they are prepared to serve this god in whichever way they can."[3] The historian also drew attention to contemporary usage of the term lodzermensch as a strictly historical term: "Two years ago, with Doctor Thomas Fuks, a sociologist from Kassel, we took a closer look at the environment of those contemporary Łódź residents who admit to German roots. We asked our interviewees, among other things, about who a lodzermensch is, whether respondents identified with them in any way, how they 'read' this figure, with what and whom they associate this figure. To our surprise, the oldest people, grouped around the Niemieckie Towarzystwo Społeczno-Kulturalne (German Socio-Cultural Society) didn't feel any connection with this literary – or oral – myth of the lodzermensche. It is clear that it is an alien concept, which no longer functions. Almost everyone drew attention to the fact that it is a term that is linguistically incorrect, its plural form is unacceptable. […] We were clearly given to understand that this concept functioned in the Jewish community, and if it still functions today it is precisely in the relations of people with German roots linked with people of Jewish origin. We were assured that this concept is not common currency among modern German Łódź inhabitants."[4]
A lodzermensch is a person without nationality, without a religion, deprived of their own roots – a cosmopolite, but also, which is usually emphasised strongly, a Łódź patriot, and at the same time, co-creator and master of the city, whose sense of their own worth was reflected in culture. Jerzy Grohman, the last descendant of an industrial Łódź family, characterised the phenomenon aptly, taking into account the migrational-generational development of Łódź society, the evolution of attitudes amongst lodzermensche over time, and finally the danger of oversimplifying the concept: "This was a generation that I knew, and I am talking about the generation of my father; it had no national ties with Germany. It was already well-educated after higher education in England, Switzerland, Germany, Russia, Riga, France. These were not people of Polish culture. Polish culture fascinated them, hence many of them became polonised, eg the Grohman family, but – generally speaking – culture is patriotism and history. In that sense, they were not Polish patriots, but felt a tie with the place where they lived. And it was a strange place … we had German emigration, which lost contact with Germany. The Jewish community is a separate issue. The Jews always maintained certain ties, which were not really conducive to assimilation. […] Were there industrialists who exploited workers? There were. Were there ones who didn't exploit? There were too. There were those who cared about them, and there were those who didn't. Let's talk about patriotism now. Could one expect patriotism from the German element? No. The Russian element? No. The Polish? Well, probably not. But one could expect something else, and that was loyalty. Lodzermensche were not just industrialists, but also master craftsmen, and office workers. In the years before the First World War, most offices were staffed by Germans, even in Jewish firms. It was characteristic that in companies owned by Rosenblatt and Kohn, directors and senior management were not Jews or Poles, but Germans."[5] A moment later Grohman added: "In the Łódź situation, these lodzermensche were carriers of culture; they were the ones who went to the theatre, they were the ones who were responsible for Łódź having one of the best philharmonic orchestras in Poland, one of the best in Europe. Where today in Europe can you see whole rows of listeners at concerts holding sheet music? This happened in Łódź. I saw it and remember it. It was in Łódź that these lodzermensche bought paintings – both Scheibler and Grohman bought paintings …"[6]
To somewhat simplify, it could be stated that we are dealing with three generations of industrial bourgeoisie in Łódź. In the 1870s and 1880s, the Scheiblers, Poznanskis, Geyers, Heinzels and Konstadts belonged to the strict elite of Łódź. In the last decade of the century, successive industrialists strengthened their positions, including: Silberstein, Biedermann, Grohman, Kon and Rozenblatt. Up until the First World War, industry, and by the same token, the town, developed without major disruptions. After the war, the world of the industrial bourgeoisie underwent a crisis caused, amongst other things, by the loss of eastern markets. Shortly afterwards, however, the industrial elite rediscovered itself in a new situation, changed its style of operation – and it was then that the first concerns (business groups) were established. The Schweikerts, Eitingons, Bennichs, and above all, Karol Rajmund Eisert, gained in importance.
The development of cultural life in an industrial town devoid of traditions and concentrated around factories proceeded slowly and not without difficulty. Gradually, the increasingly well-educated, enriched middle-class began to feel a need for contact with art, aspiring, on the one hand, to Western European bourgeois standards, while on the other, endeavouring to be closer to the Polish aristocracy, and adopted upper class standards and models with varying degrees of success.
Art, generally understood only as decoration, constituted the "cover" of life. It was an expression of splendour and social position. In order to illustrate the character of Łódź industrial architecture, it is worth looking at two industrial establishments – family empires of sorts – located at two opposite ends of town. Both built in the 1870s and gradually extended in the 1880s, these industrial-housing complexes with their forms and scale influenced further development of the city and the later character of the urban "interior". The first of these was Scheibler's "territory", whilst the second was a "district" in the north-west-ern part of the town defined by the building activity of Izrael Kalmanowicz Poznański.
The related Scheibler, Grohman and Herbst families were the biggest financial and industrial tycoons in Łódź. The industrial-residential complex at Księży Młyn in Jasieni Valley – also known as Pffafendorf – is an establishment with a layout that is characteristic for the town, constituting (not just for its inhabitants) a sort of microcosm: residence – factory – workers' estates, soon to be enriched by community buildings: school, shops, and also a fire station.
In 1872, Izrael Kalmanowicz Poznański began building a cotton spinning mill in the valley of the Łódka River. It was a brick building with medieval defensive motifs and early renaissance forms. The factory was the first element of a gradually constructed complex, into which one entered through a monumental cast-iron gate. Today, that gate welcomes visitors into the revitalized Manufaktura complex. Successive industrial buildings, workers' houses and the owner's residence were gradually constructed. Four grand urban palaces are linked with the Poznański family: that of Izrael Poznański on Ogrodowa Street, which gained its current neo-baroque form during conversion at the beginning of the 20th century; a relatively modest residence built as the dowry for his daughter Anna and her husband Jakub Hert on Spacerowa Street; the neo-Renaissance palace of Maurycy Poznański on Cegielniana Street, modelled on the Venetian Sansovina Library; and also Karol Poznański's magnificent palace, according to the design of Adolf Zeligson on Gdańska Street.
Other manufacturers trod similar paths: at the end of the 19th century, a dozen or so large sever-al-story factories, gradually-emerging roadside pal-aces and rich town houses became inscribed into the Łódź landscape. The industrialists fulfilled their aesthetic needs by, above all, building grand residences. Home and garden were cut off  from the public space. They protected their private lives in residences that were often surrounded by a garden, which al-lowed them to forget about the ugliness of the city and roads without sewers and pavements. The private sphere remained hidden behind a veil of spectacular celebrations and ostentatious luxury and wealth.
The typical industrialist's interior was distinguished by a specific repertoire of neo-styles. The so-called "Old German" style was supposed to confirm the power of the family and its roots in tradition. In the hall, there were pseudo-Renaissance benches, Gdańsk wardrobes and "Venetian" chairs. In the room of the master of the house, the central position was occupied by a huge desk, a leather-covered armchair as well as a huge bookcase. There was often a panelled ceiling which had a reference to modern decorative schemes (eg serliański motifs). The living room had vibrant colours and was furnished with a "suit" of gilded or white furniture in the style of Louis XV. On the walls were hung paintings in richly gilded frames; "alabaster accessories" were popular. Numerous etageres, jardinières and display cabinets filled with trinkets were eagerly erected. Those most committed to fashion designed rooms in an oriental fashion: Chinese, Japanese or Moorish. When arranging the interiors of their houses, industrialists made use of handbooks that were popular in the second half of the 19th century with ready designs of fitting and decorations of ceilings, walls and floors – Franz Schwenke's or Ferdinand Luthmer's "templates" would probably have been used. Constanze von Franken's popular savoir-vivre handbook would also have been consulted. The author gives advice on sofas, tables and clean plant pots on the windowsill. Moreover, a significant portion relates to hanging paintings and arranging statues in the living room. Symbols of the textile industry and trade that began to appear in houses should be considered characteristic of Łódź: allegorical figures made of bronze and models of factories – being the source of income of the hosts – situated in key locations. An analysis of the fittings and décor of industrialist interiors constitutes an interesting contribution to deliberations on the process of development of the artistic tastes of the rich bourgeoisie and the transformation of their mentality.
Lodzermensche acquired works of art corresponding to aesthetically conservative stereotypes, often treating them as a profitable capital investment. With time, collecting became a moral imperative, a social requirement, a matter of fashion and confirmation of lifestyle. Works were brought to Łódź from auctions in Berlin and Vienna, were eagerly bought in Zachęta in Warsaw, as well as in artistic salons in Łódź. During his first stay in Łódź in April 1914, Wojciech Kossak wrote to Zofia Hoesickowa: "It is I, that gadabout who roams the world, I, Kossak, here in Łódź! Well, what do you say? […] What am I to do? Lodzermensche can't get enough of my art, so may the Lord God grant them health and a lot of money"[7].
Real art collections of the Łódź industrial bourgeoisie began to be established in the late-19th century. They were the "creatures" of the second or third generation of manufacturers – educated and knowledgeable about the world thanks to European travel and studies. As a result of consciously developed interests, several (larger) collections of works of art were established in Łódź as well as several or even a dozen or so smaller nascent ones. Henryk Grohman, Wilhelm Lürkens and Karol Rajmund Eisert, who systematically built up collections, can most certainly be numbered amongst competent acquirers, contemplating, seeking meaning, analysing and interpreting works. This attitude can also be found in the collecting activities of Teresa Silberstein; paintings by Chełmoński, Brandt, Podkowiński, Boznański, sculptures by Glicenstein and Dunikowski, now to be found in the Polish Museum in Rapperswil, originate from her collection. Juliusz Teodor Heinzel, Baron von Hohenfels could also boast valuable collections, and was the owner of paintings by Siemiradzki and Courbet.
Henryk Grohman holds a special place amongst Łódź industrialist collectors. His artistic interests were broad: he collected European and eastern ceramics, a variety of orientalia, sheet music and valuable musical instruments (including a lost during the Second World War Stradivarius violin). His great-est collecting passion, however, was graphic art. The graphic art collection, which was begun in 1904, encompasses original works by – for the most part – foreign and Polish artists who were Grohman's con-temporaries. He kept his collection in his offi  ce at the house on Tymienieckiego Street. The offi ce was probably designed by Otto Wagner's son around 1910, with decor alluding stylistically to the Joseph Hoffmann circle of the late Vienna Secession. Grohman put real passion into creating a collection numbering about 1300 works of black-and-white art of great artistic and cognitive value. The works collected in it, today exhibited at the Library Print Room of Warsaw University, present an extensive panorama of trends and tendencies in European graphic art of the second half of the 19th and the beginning of the 20th century.
Born in Eupen on the German-French border, Wilhelm Lürkens was the owner of a hosiery factory and a three-story mansion nearby. The great area and height of the rooms in it are reminiscent of the old gallery. Although Lürkens did not belong to the strict financial elite of the city, the quality of the collected works is noteworthy. According to some sources, he was the owner of paintings by Constable, Sisley, Degas, Renoir, Thoma and Slevogt, amongst others.
Karol Rajmund Eisert, grandson of Jan Gottlob, who had come to Poland from Saxony, was picky and cautious when buying a work of art. In 1938 his son Harry Eisert, in accordance with the will of his dead father, donated his collection to the Museum of Art in Łódź. Unfortunately, most of the paintings went missing during the war – including works of the Italian school: a diptych associated with the Gentile da Fabriano School from the first half of the 15th century, a painting from the School of Ferrara, dating to about 1470, Madonna z Dzieciątkiem i liliami (Madonna with Child and Lilies), as well as works of other northern European artists, including Jacob Jordaens and Jan Steen.
The histories of paintings – which often figure in the popular consciousness – such as Pikieta powstańcza (Insurrectionary Patrol) by Maksymilian Gierymski (the National Museum in Warsaw), Targ na kwiaty przed kościołem św. Magdaleny w Paryżu (The Flower Market in front of the Madeleine Church in Paris) by Józef Pankiewicz (the National Museum in Poznan), Szkoła talmudystów (The Talmud School) by Samuel Hirszenberg (the National Museum in Krakow), Zamek Chillon (Chillon Castle) by Gustave Courbet (the National Museum in Gdańsk), Ryby (Fish) by Giuseppe Recco or Sztorm (Storm) by Iwan Ajwazowski (Museum of Art in Łódź) – constitute part of the landscape of the Łódź created by industrialist collectors: they defy stereotypes, they remind us of the identity of the town. They tell the story of the Łódź Atlantis, a world that disappeared forever after the Second World War.
Translated from the Polish by George Lisowski
***
[1] Stefan Gorski [Michał Nałęcz], Łódź spółczesna. Obrazy i szkice publicystyczne, Łódź 1904, p. 12–13.
[2] Ibidem, p. 21–22.
[3] Interviews in "Tygiel": Lodzermensch – historia i mit, ed. Luiza Skawińska and Ziemowit Skibiński, Tygiel Kultury 1998, nr 3–4, p. 33.
[4] Ibidem, p. 36–37.
[5] Ibidem, p. 34.
[6] Ibidem, p. 35.
[7] Wojciech Kossak, Listy do żony i przyjaciół 1883–1942, ed. Kazimierz Olszański, Kraków–Wrocław 1985, vol. 2: 1908–1942, p. 134.