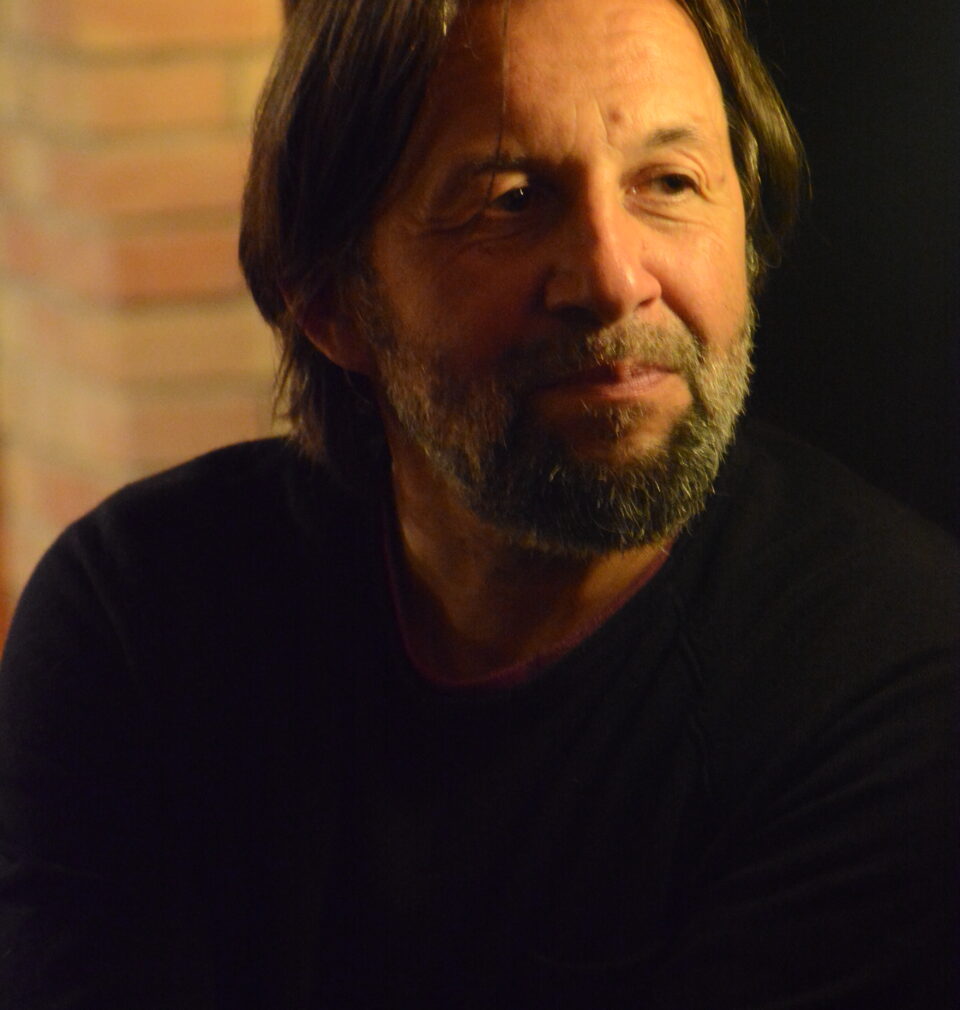 Let's be frank: we are in a situation of certain desires, intuitions, unknown answers. We are dealing with cities, and the competition which took place in Poland shows very well which cities have aspirations and see their development opportunities in investing in culture. We, people of culture, should not only be glad but also realise that it is a very great responsibility for us.
Joanna Sanetra-Szeliga: In April you became an artistic director of the Festival Office Impart 2016, which will organise the preparations for a huge undertaking – Wrocław, European Capital of Culture 2016. The victorious application for the ECOC 2016 title[1] was prepared by a previous team under the slogan "Spaces for beauty"[2]. Will there be many changes?
Krzysztof Czyżewski: In our preparations we adopted a strategy of continuation, both in terms of cooperation with the team of the authors of the application, which will be expanded, and in terms of content. We want to produce an extraordinary, unique conception, creating a new quality and new models; a conception prepared by as many people as possible. We also plan a close cooperation with the other ECOC 2016, that is San Sebastián (talks have started on creating a joint programme board, coordinating the Polish-Spanish cooperation within the ECOC). And the application itself, just like many documents of this kind, is a sort of an inventory. In the initial phase of preparations for the competition the city collects everything that is has, it boasts of the richness and variety of proposals, it reveals its potential. In the final stage we now find ourselves in such a formula is not necessarily the best solution. If the ECOC were to be reduced to a kaleidoscope of various events, the potential of the project, in my opinion, would be wasted. The question we are facing now is: how to integrate this potential into one story, how to build a strong message for the whole city, how to orchestrate all the planned actions. The metaphors of a city-orchestra or a programme orchestrated by an entire city are particularly close to my heart. I think that the whole city will be an actor in the great spectacle to take place in 2016. A huge challenge during the preparations of the programme will be to open ourselves to various groups and communities functioning in the city, to various ways of participating in culture and urban life by the inhabitants of Wrocław themselves.
J.S.S.: How important will the local dimension of the project become under your direction? It is very noticeable that in contrast to other ECOC candidates (such as Łódź or Lublin, where almost all representatives of the cultural community and many inhabitants were involved in the preparations), Wrocław is not looking particularly good. Is that going to change?
K.C.: It is already changing and these changes are very dynamic. The Civic Council of Culture[3] in Wrocław has been established, and we want to talk to them. I'm meeting many other communities, including representatives of the city authorities and the mayor. Everyone is expecting that the Wrocław 2016 programme will contribute to building human capital, support creativity, promote openness and internationalise the city. These are the issues which have always been important to me in the European Capital of Culture project. I wanted to be involved in this initiative from the very start, because I thought I could make good use here of my 20 years' experience with the "Borderland"[4]. As it turns out these instruments, created in a small town and for a small town, are also in great demand in large cities.
J.S.S.: Indeed – such grassroots work, socialising culture, is also necessary in large cities, where the sense of community is often lacking, where extreme individualism is rampant and people rarely get involved in actions for their city.
K.C.: I am particularly alarmed by the fact that these developments have also started to affect culture. We can observe the alienation of culture into a form of a festival or a large event. Of course, we all need such events too; celebration should be an important part of our life. But if that is all that remains, if culture is reduced to festivals, in my view it is becoming a symptom of a disease rather than an expression of good, positive energy. The question I have been addressing for 20 years to students of cultural animation arriving in Sejny is still relevant: if not a festival, then what?
J.S.S.: Supporting everyday participation in culture? Making regular contact with culture possible in the immediate environment?
K.C.: Exactly. On the other hand a festival can also be a generator of various initiatives. In Wrocław we have just succeeded in our discussions with the municipality on handing over a large building of the Helios cinema to the New Horizons Festival. There will be a so-called arthouse, open all year round, functioning there. It all began with the New Horizons Festival invited by the city of Wrocław which wasbuilding up its cultural power at the time. The New Horizons Festival (this year T-Mobile New Horizons) developed here wonderfully. Both Roman Gutek (head of the New Horizons Association) and the city authorities believed that the festival should not be limited to a film review. The next step is creating an arthouse, with a workshop, a ten-screen cinema for showing ambitious films, the Academy of Polish Film and a place for educational work, audience development, artistic and cinematic workshops. Attracting the audience is a great challenge. The key to this undertaking is that the activities of the New Horizons will not be focused exclusively on annual editions of the festival but will be organised throughout a year, broadening the city's cultural offer. This is the direction we have in mind. Culture everyday.
 J.S.S.: Going back to the application itself, I would like to ask if the slogan "Spaces for Beauty" and the idea of Metamorphoses of Cultures will remain, or will they be replaced by new ones?
K.C.: I think that in the process of preparations for 2016 new elements may appear. Fortunately, the slogans you mentioned are so capacious and open that they do not exclude other initiatives which will certainly turn up. We will see how things go until the end of the year, that is in the period we assigned for preparing the first framework of the programme. I am reluctant to reveal the details of the Wrocław 2016 programme at the moment because, first, it is not ready yet and second, we still need a lot of consultation. We want the widest possible group of artists to participate in creating it. I must add that another important challenge is the indispensable continuity of the programme beyond 2016. My dream is to create an open programme based on the principle of dynamic building – when inaugurating the celebrations in January we will still be open to experiments and surprises held in store by 2016. Of course, we have three years for rehearsals, for the process of creation and preparation. I am deliberately calling these three years "a rehearsal period". If the orchestra is to start playing in 2016, everything we do until then will be an attempt to orchestrate our actions. This process cannot simply stop in its tracks in 2016. I wouldn't want the ECOC project to be a tornado, which will roll over 2016 in a wonderful style and leave only ruins behind. All the money will be spent, the city will be hollowed out, people will be fed up with culture for at least a couple of years. There will be no further work, no continuation. This is the issue we have to start thinking about today. Therefore, I will try to build our programme in a way conducive to strengthening the creative community in Wrocław, the civil society and cultural policy of the city so that all this acquired potential can be developed after 2016. It is a matter of fundamental importance for me. Other ECOC projects have rarely been successful in that, but we can at least try to learn from the mistakes of others.
J.S.S.: The question of the long-term impact of the ECOC, the changes it could or should engineer in the city, its legacy, so to speak, is now being widely discussed. Unfortunately, at a recent conference summing up the ten-year "legacy" of Bruges 2002 many negative examples were quoted. They concerned even those cities which hold the title now, when the awareness of opportunities offered by the ECOC seems profound. For example, in Turku in Finland, last year's European Capital of Culture, the discussion about the long-term impact of the ECOC on the city began in the May 2011!
K.C.: It is a challenge and a huge responsibility. I feel it both towards other Polish cities and towards the whole of Europe. Let's be frank: we are in a situation of certain desires, intuitions, unknown answers. We are dealing with cities, and the competition which took place in Poland shows very well which cities have aspirations and see their development opportunities in investing in culture. We, people of culture, should not only be glad but also realise that it is a very great responsibility for us. For if this undertaking ends in failure, we will all lose. I recently visited Barcelona – it is an alarming example of a city which has been dynamically developing in recent years while attempting to focus on culture. After the 1992 Olympics the city was confronted with the question "What next?" The answers that were given were "culture", "creativity". The city began to mobilise its potential (including very large financial resources) for creating a special district in the place where one of the main streets, Avinguda Diagonal, reaches the sea. Barcelona invited the greatest architects in the world to design the space for creativity. An opportunity for that was provided by Fòrum Universal de les Cultures[5], a 141-day festival of culture, in which five million people were supposed to take part. Only 3.3 million came. These were already the symptoms of the programme weakness , which ultimately ended in disaster. Today it is a dead, gentrified area of the city with hotels built for rich visitors or businessmen, but culturally not only that this place doesn't have any contribution to the city but also it is a painful reminder of a failed cultural project and of the fact that since then the city has approached initiatives of this kind very cautiously. It can happen anywhere. We already know that the famous ideas of Richard Florida[6] are not necessarily perfect.
J.S.S.: First of all, their implementation is not as easy as some decision-makers believe. The same holds true for the so-called Bilbao effect, a slogan often voiced in this context by urban rulers. It is not enough to build a big and beautiful cultural centre or a creative district. The success of an undertaking depends on a number of decisions, a chain of circumstances, strategic thinking.
K.C.: And the development is not immediate. For it is connected with a whole conglomerate of other problems and issues. Such lessons also have to be considered. In Barcelona they focused on external forces, big capital, promotion. It turned out that when the citizens were not involved, when there were no grassroots processes accompanying the investments, nothing remained from the artificially generated creativity. This is why we have to build Wrocław 2016 in a completely different way. As Barcelona was at that time after the Olympics, we are now after Euro 2012. The following narrative is now functioning in Wrocław: "We had sport, we had the great Euro 2012 event, now we have the European Capital of Culture."
J.S.S.: And then something else still? From an event to an event?
K.C.: Exactly! This is another very important question. In my view they cannot be treated as some separate, mutually exclusive chapters! In 2017 Wrocław will be hosting the World Games, that is a championship of non-Olympic sports. So another big sporting event is awaiting us. We must avoid the following scenario: after 2016 we finish with culture and turn to sport. Already today we have to think about it as a common platform for action and the projects have to be interconnected. A common strategy– both internal and external – is necessary.
J.S.S.: A problem for many countries, often those which have received a lot of EU money for cultural purposes, is now (also because of the crisis) maintaining and revitalising the huge cultural investments. Cultural facilities are closed down, often in an atmosphere of scandals and mutual accusations, some are left unfinished or (as you mentioned in the context of Barcelona) they remain empty and dead. Polish investments may share this fate. In Wrocław too there are many investments in cultural infrastructure.
K.C.: Wrocław has a restored the Centennial Hall, it will have the European Forum on Music, the arthouse in the Helios Cinema. These are huge spaces, which have to be filled with the public. Obviously it is a great challenge. Of course, I mean a grassroots Wrocław force. Not only mobilising but also educating the audience, stimulating its creativity. Our task is to develop an audience which not only consumes passively but also actively participates in an event. I already see some positive symptoms. Moreover, Wrocław has to realise that it will not fill these spaces on its own. Hence – and I am very attached to this idea – it is necessary to open the city to the region, which is also connected with some technical issues. It means that if we don't build a good transport network in the region, allowing people to come to a cultural event in Wrocław from Wałbrzych or Legnica and go back home in the evening, we will deprive ourselves of a large section of potential viewers. So perhaps the situation will stimulate something which seemingly has nothing to do with culture, that is improving transport. In fact it is inconceivable to me that the programme for 2016 could be the work just of people of culture and the municipal cultural department. I want cooperation of all sectors from the beginning. As soon as this July we will have the first cross-sector meeting, that is a meeting with directors of all municipal departments, leaders of various areas of life. We will sit at a table and talk about the ECOC 2016 programme, taking into consideration social matters, education, business, ecology, transport, international matters, promotion. The integrative factor, which for me will be a crucial factor in building the programme, is the cross-sector mobilisation of forces as well as integration in the world of culture itself, which (as we know) is very fragmented or even factional. So again we come back to orchestrating the process.
J.S.S.: And will you find a place in the programme for the cities which took part in the ECOC 2016 competition? Their representatives are holding regular meetings, they have expressed the will to cooperate with Wrocław.
K.C.: This is how I understand the gesture of inviting representatives of these cities to Wrocław for the April conference Excluded from Culture. And this is how I interpret the invitation of a former rival from Lublin to participate in the creation of Wrocław 2016. I built a bid which competed with Wrocław, I fought for the title to the last, fervently believing that we would succeed. I was also a member of a movement for meetings of candidate cities, which we called Polish Capitals of Culture. It seems to me that Wrocław is bearing responsibility for the whole cultural revolution which has swept across Polish cities in connection with the ECOC. Besides, Wrocław needs to cooperate with other cities. It also may influence cultural policy in our country, looking for common solutions which could later be used. I am receiving signals from other cities and I know that we are in the same boat. If Wrocław succeeds, the situation of other cities which focused their efforts on culture, which see their development opportunities in culture, will be completely different.
J.S.S.: It will certainly be an example that culture counts and is profitable. In this way one can secure a valuable piece of evidence in the discussion about the place of culture in the city and in the argument with the decision-makers. You mentioned a cultural revolution in Poland. Indeed, the ECOC produced violent changes in some cities. I would like to use this opportunity and ask you about Lublin, which unfortunately failed to gain the ECOC 2016 title despite the whole involvement of both people of culture and inhabitants. Have some changes occurred in the city despite the failure? Has anything permanent survived from the ECOC preparation process?
K.C.: The role of Lublin as the leader of "eastern" competences is growing, especially, but not exclusively, in cultural cooperation. For example, the East European Initiatives Congress has been established, and I was invited onto its board. It was initiated or inspired by the Eastern Partnership Culture Congress, which we organised last year in Lublin. People are still acting under the aegis of the Congress, there are some recommendations, we will be building a European cultural network of the Eastern Partnership. Besides that, Lublin will have a new, independent cultural institution – the Workshops of Culture are becoming more and more independent, which is also a result of the work on the ECOC. It will be an institution dedicated, among other goals, to cooperation with our eastern partners. The East European Performing Arts Platform has also been established. As we can see, the east is an important area. And I think that another effect of the ECOC is the kind of inhabitants involvement in culture which was the strongest point of the Lublin application for the ECOC 2016 title. It is also the spirit of Lublin, which can express itself in many different ways.
J.S.S.: People will not allow these achievements to be taken away from them?
K.C.: They won't, this is not the same city any more.
J.S.S.: Are there any similarities between Lublin and Wrocław? Let's take, for example, the aspect of cooperation with the eastern neighbours of Poland.
K.C.: Before I started to be connected with Wrocław in any way, our first idea in Lublin, after the results of the ECOC 2016 competition had been announced, was to donate to Wrocław one of our most important projects, that is creating a space for Lviv, also as a capital of culture. We even motivated the Ukrainian cultural communities to write their own application. Our aim was to integrate them; we wanted to encourage them to build a programme. It is natural that Wrocław together with Lublin (as of course we want to invite Lublin) will continue this initiative. In September we are going to Lublin and Lviv with Mayor Dutkiewicz and we are taking our proposal for working together with us.
J.S.S.: What will be the biggest challenge in Wrocław for you? Many directors of other ECOCs complain about difficult relations with city authorities, about problems with the budget.
K.C.: I don't think that this will be the most difficult thing, although certainly it's very important, even from the point of view of sensitivity that will have to be shown. Above all, as cultural operators we need to be aware of the conditions we are functioning in. We still don't know in what direction and how far the current crisis will develop. In this situation we can't be too demanding; we must understand the plight of our municipal partners. We have to take joint responsibility for actions taken rather than only demand. And as for my personal perspective, I have always treated this project as an artistic undertaking, although I have never seen it achieved completely in this respect. The fact that we are involving the citizens in culture, that we allow them to experience this unique atmosphere of creative work, of building something new, avant-garde, overcoming certain horizons, is just an element of this process. So the greatest challenge for me will be to build the collective work of art which will be Wrocław 2016, a piece which will start functioning on January 1st, 2016 and end on December 31st, 2016. It is supposed to be a dramaturgically coherent, many-voiced story. Apart from the European Capital of Culture I don't know of a project that embraces a whole city for an entire year, and provides an opportunity for creative such a work. I look at the ECOC also as an artist.
Translated from the Polish by Tomasz Bieroń
***
[1] The competition for the title of European Capital of Culture 2016 was entered by 11 Polish cities: Białystok, Bydgoszcz, Gdańsk, Katowice, Lublin (Krzysztof Czyżewski was artistic director of this initiative), Łódź, Poznań, Szczecin, Toruń, Warsaw and Wrocław, which ultimately found the most favour with the jury.
[2] The team acted within the Institution of Culture Wrocław 2016, whose director was Prof. Adam Chmielewski.
[3] The Civic Council of Culture (ORKA) "is a grassroots and open initiative of artists, curators, academics, animators and organisers of cultural life, who believe that the preparation process for the implementation of the European Capital of Culture 2016 programme may be a turning point in thinking about culture in Wrocław". http://orkawroc.blogspot.com/ (4 July 2012).
[4] Krzysztof Czyżewski is co-founder and director of the Centre "Borderland of Arts, Cultures and Nations" in Sejny.
[5] Fòrum Universal de les Cultures (Universal Forum of Cultures) was a chain of events such as debates, conferences, artistic presentations, art fairs, concerts, etc., lasting from 9 May to 26 September 2004. Its aim was to promote peace, balanced development, respect for cultural diversity and human rights.
[6] The concept of creative cities developed by Richard Florida in his publication The Rise of the Creative Class (Polish edition: Narodowe Centrum Kultury, Warszawa 2010).